"I cannot endure to waste anything so precious as autumnal sunshine by staying in the house." – Nathaniel Hawthorne
Clarity First
A notebook about how we work, and learn, and love and live.
I'm always as surprised as you to find at week's end what I've gathered in this letter. This week there are more stories about personal agency and productivity than usual. Mmm.
Times are frightening and surreal. And here in New England it is sunny and warm, the sweet corn, peaches and plums are in season, and we can still visit friends on our porches. Happy Friday.
Learning
Words that mean living happily
Our friend Debby Slavitt currently lives in Manhattan, but she still dreams in French. Last week I ducked into a virtual birthday party for her and was delighted to hear stories of lifelong connection, many of which involved Smith College and Greenwich Village in the 60s. Then this week she shared with me an article about words that encompass feelings, indescribable sensations, and the practices that make life a little more delightful. She said: "I think it will say something to you since you are an appreciater". You're right, Deb. I appreciate connection wherever and whenever we find it. Happy birthday.
Article: The Untranslatable Words for Living Happily Around the World 
Transformational Leadership
"We need to be visualizing the future we want, and, in a spirit of aspiration, taking firm steps to achieve it."
"In times of crisis, we must be able to reimagine. Fighting disruptions and disasters with financial austerity, mass employee layoffs and various types of fine-tuning in the same, old planning systems is not the way forward. We need to design Moonshots — desirable and inspiring visions of the future — to ensure better days for society, the planet and business, instead of succumbing to predictable scenarios. We need to be visualizing the future we want, and, in a spirit of aspiration, taking firm steps to achieve it. This kind of Moonshot thinking has been responsible not only for the famous 1960s moon landing, but also numerous other breakthroughs since then.
"The best leverage to build resilience and to reimagine? Experts around the world can't think of better tools than sustainability and regeneration — ensuring that we design new Moonshots consistent with science-based, context-based, net-positive thinking. Little wonder that a few weeks ago, the President of the European Commission, Ursula von der Leyen, yet again pointed to the European Green Deal as the smartest driving force behind recovery at this time. That said, ensuring economic recovery requires more than just bold ideas and investment."
Article: The Moonshot Approach: 5 Critical Elements of Transformational Leadership
Personal Productivity
A lot of the choices you encounter on a daily basis are endless rabbit holes to nowhere.
"Instead of keeping the door open to more choices, you need the discernment and confidence to close most doors so you're entirely unaware of them."
Article: Why the Right Kind of Ignorance Can be a Good Thing
Personal Productivity
A super simple method to help you get your tasks done.
I've been really busy lately, skirting burnout. So this week I tried a simple method of breaking larger tasks into smaller pieces. Know what? It works.
"Named after a pomodoro (tomato) kitchen timer, the essence of it involves considering in advance how many pomodoros you might need for what you want to get done, setting your timer for, normally, 25 minutes and then focusing on your task until the time's up. Then take a 5 minute break. That's one pomodoro. After you've done four pomodoros take a longer break, of about 30 minutes."
This article includes some helpful hints, to which I'll add two: 1. Use a meditation timer rather than a kitchen timer. The sound of a gong or wood block is a pleasant addition to the work day. (I use Insight Timer.) 2. Be flexible with the times. Some larger tasks need more than 25 minutes, and sometimes all you need to do is touch the project for a few minutes. Jugglers know that the secret to holding many balls in the air is to touch all of them one at a time.
For me, one of the biggest benefits of the technique is finding the discipline to work on only one project for a dedicated period of time rather than attempting to multi-task multiple projects. I feel better and I'm getting more done.
Article: The Pomodoro Technique
Personal Development, Writing, Creative Process
David Sedaris credits success to his systematic note-taking strategy.
"I had writer's block until I learned about David Sedaris. As a comedian, he can't afford a creative block. He credits his systematic note-taking strategy is the key to his success. He always carries around a notebook. That way, he can save funny stories he notices or overhears.
"As he once wrote: 'Everybody's got an eye for something. The only difference is that I carry around a notebook in my front pocket. I write everything down, and it helps me recall.'
"His note-taking system is idiot proof. Instead of depending on his brain to remember important information, he relies on his notebook. He reviews his notebook every morning. He types the best ones into a notebook on his computer, where they can be instantly searched for the rest of his life.
"When he's stuck, Sedaris turns to his diaries. Sometimes, he reads a diary entry to his audience. When he speaks, he listens for feedback. If the audience laughs at the joke, the idea gets a check mark. If there's a silence, he writes a skull. And when a story gets repeated laughs, he adds it to his comedy routine, where he re-writes the joke until he masters the timing, the framing, and the rhythm that'll shake the room with boisterous laughter."Congratulations. You just learned everything you need to know about writer's block. And now, it's time to break down those principles.
Article: By the Time You Finish This Article, You'll be Done With Writer's Block Forever.
Media, Social Messaging
Now your avatar can support Joe Biden too.
"Few campaign stumps. No balloon drops. Certainly no kissing babies. The coronavirus has pushed political campaigns even further into the digital realm—but the Biden campaign is now on its own island when it comes to online organizing."That's because the Biden-Harris campaign released four new yard signs for the popular game Animal Crossing. Players can deck out their own islands with one of three logos (Biden-Harris, Team Joe, or "Joe" Pride), or opt for an image of Biden's aviators in red, white, and blue."
Article: The Biden-Harris Campaign Just Released Yard Signs for 'Animal Crossing'
Graphic Design
An online platform shows how our social and cultural lives have been affected during the pandemic, through discarded graphic design projects
The identity of the Cully Jazz 2020 is based on the perspective of a concert room which, ironically, is empty. The rooms at Cully Jazz were indeed deserted, after the cancellation of the festival, due to the COVID-19 pandemic. The posters were printed at Lézard Graphique and hung in the streets before the pandemic reached us.
Designer(s):
Giliane Cachin, Zurich (CH)
Alice Franchetti, Geneva (CH)
Client:
Cully Jazz Festival 2020
Article: Parallel-Parallel is a Platform Celebrating Graphic Design Work Cancelled During Covid-19
Oneliners
All Timberland Products to Be 100% Circular, Net Positive by 2030
Will Zoom Become the Napster of the Events Industry?
Working From Home and Feel Like You're Working All the Time? Here's What To Do
Just for Fun
It's official. Dave Grohl and Nandi Bushell are in a drum-off, and the whole world is watching.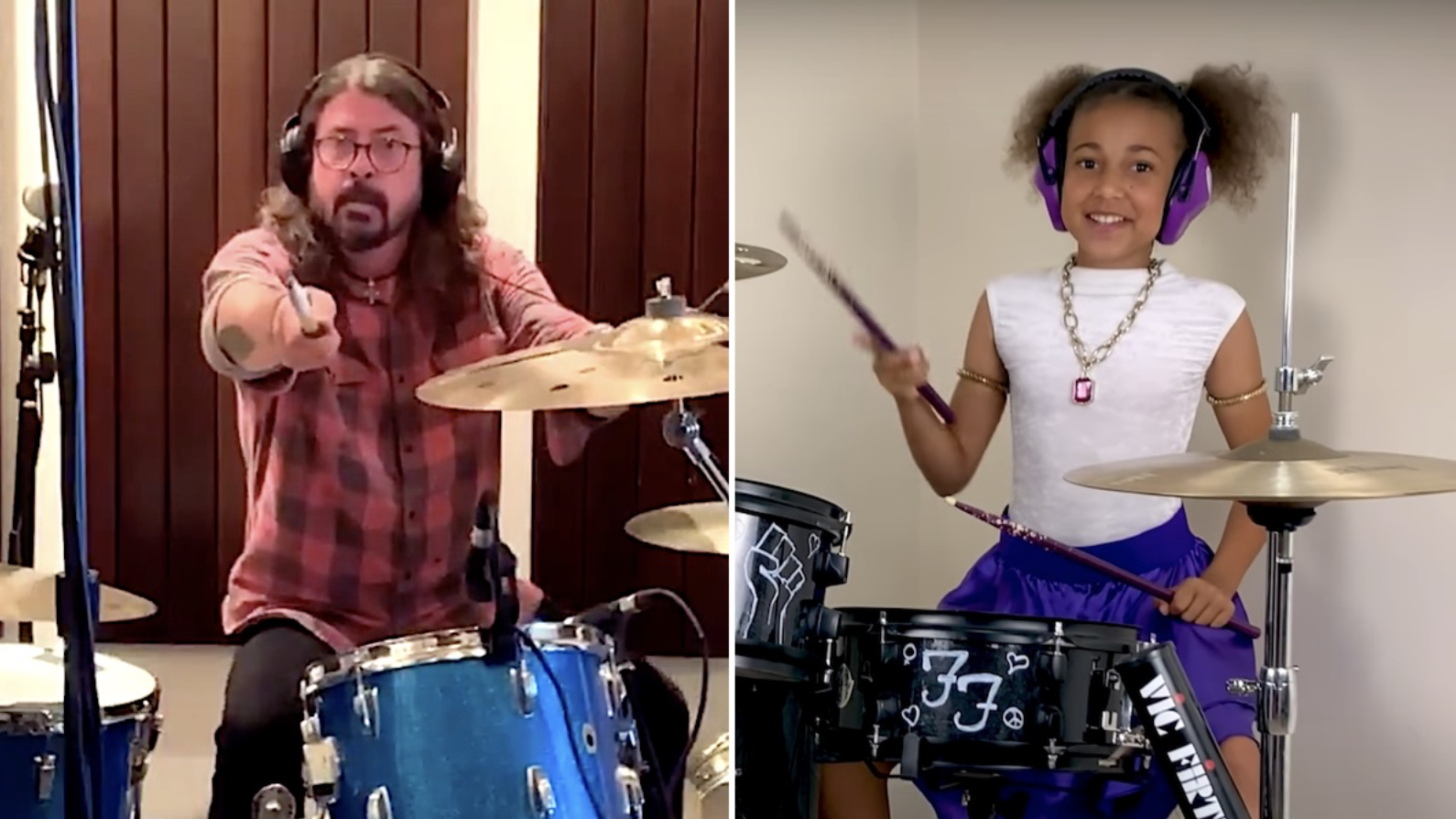 Last week I told you about 11-year old Nandi Bushell's cover of the Foo Fighter's song Everlong, and her challenge to Dave Grohl for a drum-off. This week he accepted the challenge and the story went wildly viral, being covered by CNN, USA Today and Rolling Stone. Go drummers, go.
Article: Dave Grohl Accepts 10-Year-Old Drummer's Virtual Drum-Off Challenge
Playlist
My father passed away three weeks ago. He died peacefully in his sleep at the age of 96.
This week my son, Sayre, sent this email to his two sibs, my brother Dale, and me:
"I've been listening to Box of Rain since Grampa passed. It's been a go-to for perspective and peace for me for years, but I just learned this year that Phil wrote it as his father was passing, which makes it extra poignant at this time. I highly recommend a listen or 7."

In this short video Phil Lesh and Robert Hunter describe the writing of the song. It's a beautiful tribute to the creative process, and to the passing of Phil's dad.   Phil Lesh on writing Box of Rain
Sayre also shared these links:
Box of Rain, original The Grateful Dead recording (1970)
Billy Corgan Cover of The Grateful Dead – "Box of Rain" Acoustic (2017)
"Box Of Rain" by Phil Lesh & The Terrapin Family Band (2020)
Then son Devan added to the thread with this:
"Box of Rain also has the distinction of being the last song that The Grateful Dead ever played live (and thus, Jerry's last solo). Kind of eerie looking back on it. 'Such a long, long time to be gone, and a short time to be there.'"
But as historically significant as that recording is, it's kind of rough and I couldn't let the thread end there. So I found this lovely reading of the song performed by Dead & Company in 2016: Dead & Company – Box of Rain (Citi Field, NY 6/26/16).  John Mayer does Phil's vocal part true justice.
You are so right, Sayre. This is a beautiful song and it feels so good to tie it to Grampa's memory. Thank you. A deep bow to my father. A deep bow to our family.
Image of the week
The image of the week is a photo collage titled Summer Vibe. It is based on William Bouguereau's painting 'The Pearl'.
"Ukrainian artist Alexey Kondakov lifts figures out of classical paintings and drops them into modern-day photographs. Elegantly posed in dynamic lighting, his figures commute on public transit, dance in nightclubs, and peek around corners in otherwise mundane digital collages. The juxtaposition of the two worlds is humorous and at times seamless in its execution.
"Through placement and shadows, Kondakov's images sell the idea that the classical figures are three-dimensional objects photographed in a three-dimensional world. An image from an upcoming nightlife series depicts a mostly nude woman in a unique pose that, in context, can be read as dancing. Other images from his ongoing 'Daily Life of Gods' use architecture and landscapes to ground the painted figures in an alternate reality.
"To see more of his period-blending collages, give Alexey Kondakov a follow on Instagram."
Article: Figures From Classical Paintings Experience Contemporary Life in Collages by Alexey Kondakov
What's Clarity First?
If you're new to Clarity First, it's the weekly newsletter by me, Mitch Anthony. I help people use their brand – their purpose, values, and stories – as a pedagogy and toolbox for transformation. Learn more.
If you get value from Clarity First, please pass it on.