"There is a myth that the purpose of education is to give one the means for upward mobility and success. The plain truth is that the planet does not need more successful people. But it does need desperately more peacemakers, healers, restorers, story tellers, and lovers of every shape and form." – David W. Orr
Clarity First
A notebook about how we work, and learn, and love and live.
To open this week's letter I want to give a shout out to Maya Gabeira. She just rode the biggest wave ever ridden by a woman. It was also the biggest wave surfed by anyone in the 2019-20 winter season.
We are in very big surf indeed. But Homo sapiens are very good learners, adapters and evolvers.
We can do this.
Happy Friday.
Persuasion, Community
How "moral reframing" can help us confront existential threats — and prove that we're not as divided as we think we are.
"A divided electorate, a gridlocked government and no end in sight. Where do we go from here? Robb Willer, a professor of sociology and psychology and the director of Stanford University's Polarization and Social Change Lab (PASCL), has some ideas. He and his team of researchers have literally made a science of polarization, examining what it is, how it functions, why it occurs and what we can do about it. We talked with Willer and his colleagues about their research, taking a deep dive into the root causes and complex dynamics of division."
Article: How Can I Convince You?
Organizational Health, Leadership
A more dynamic, organic, and evolutionary view of how organizations' capacities grow and can be cultivated
"Much more complex than linear supply chains, business ecosystems are groups of companies and other actors (platform providers, government agencies, independent contractors, co-creating customers, and so on) whose contributions come together to produce value. The idea is that each of these parties could benefit if they took a more holistic view of their collective efforts.
"As much as workplaces have adopted the vocabulary and metaphor of the ecosystem, there hasn't been much information about how management approaches and behaviors should evolve in response. What leadership styles will be effective in getting others aligned and making the system work better? What new structures, tools, and processes will managers now need to enable broader coordination and keep progress on track?"
Article: What Management Needs to Become in an Era of Ecosystems
Personal Development, Learning
Talking to strangers has unexpected benefits for our wellbeing.
"There is a growing body of research suggesting that engaging with and trusting people we don't know is important for our wellbeing and the wellbeing of those we encounter as well as the health of society. For example, friendly behaviour to strangers has been linked to higher self-esteem in teenagers in the United States. In China, greater trust in strangers has been linked to better overall health. And in Canada, trust in strangers has also been correlated to individual wellbeing."
Article: The Surprising Benefits of Talking to Strangers
Corporate Responsibility, Branding
The Uncle Ben's rice brand is getting a new name: Ben's Original.
"Parent firm Mars Inc. unveiled the change Wednesday for the 70-year-old brand, the latest company to drop a logo criticized as a racial stereotype. Packaging with the new name will hit stores next year.
"'We listened to our associates and our customers and the time is right to make meaningful changes across society," said Fiona Dawson, global president for Mars Food, multisales and global customers. "When you are making these changes, you are not going to please everyone. But it's about doing the right thing, not the easy thing.'
"Several companies have retired racial imagery in recent months, a ripple effect from the Black Lives Matters protests over the police killing of George Floyd and other African Americans.
"Quaker Oats announced in June that it would drop Aunt Jemima from syrup and pancake packages, responding to criticism that the character's origins were based the "mammy," a black woman content to serve her white masters. Quaker said packages without Aunt Jemima will start to appear in stores by the end of the year, although the company has not revealed the new logo.
"'It's a chain reaction of sorts and it's really good and interesting to see so much introspection being done in these companies to change the trademarks that they've invested in,' said Riché Richardson, an associate professor of African American literature at Cornell University, who called for Aunt Jemima's retirement five years ago in a New York Times opinion piece. 'There is a challenge for some people in letting go of these images because they wrongly link them with a sense of Black identity and empowerment when in reality these images have never empowered Black people.'
"The owner of Eskimo Pie has also said it will change its name and marketing of the nearly century-old chocolate-covered ice cream bar."
Article: Mars Drops Uncle Ben's, Reveals New Name for Rice Brand
Identity Design 
A fun peak at how the sausage is made
Article: Logo Sketches & Logo Designs of 8 Famous Brands
Advertising
Riding the yoga craze
This spot is a great example of advertising that is good enough to share with your friends and family. I bet it sells some product, too. The agency is CHE Proximity, Australia.
Advertisement: Product Pose Yoga
Just for Fun
The poetry of sales lingo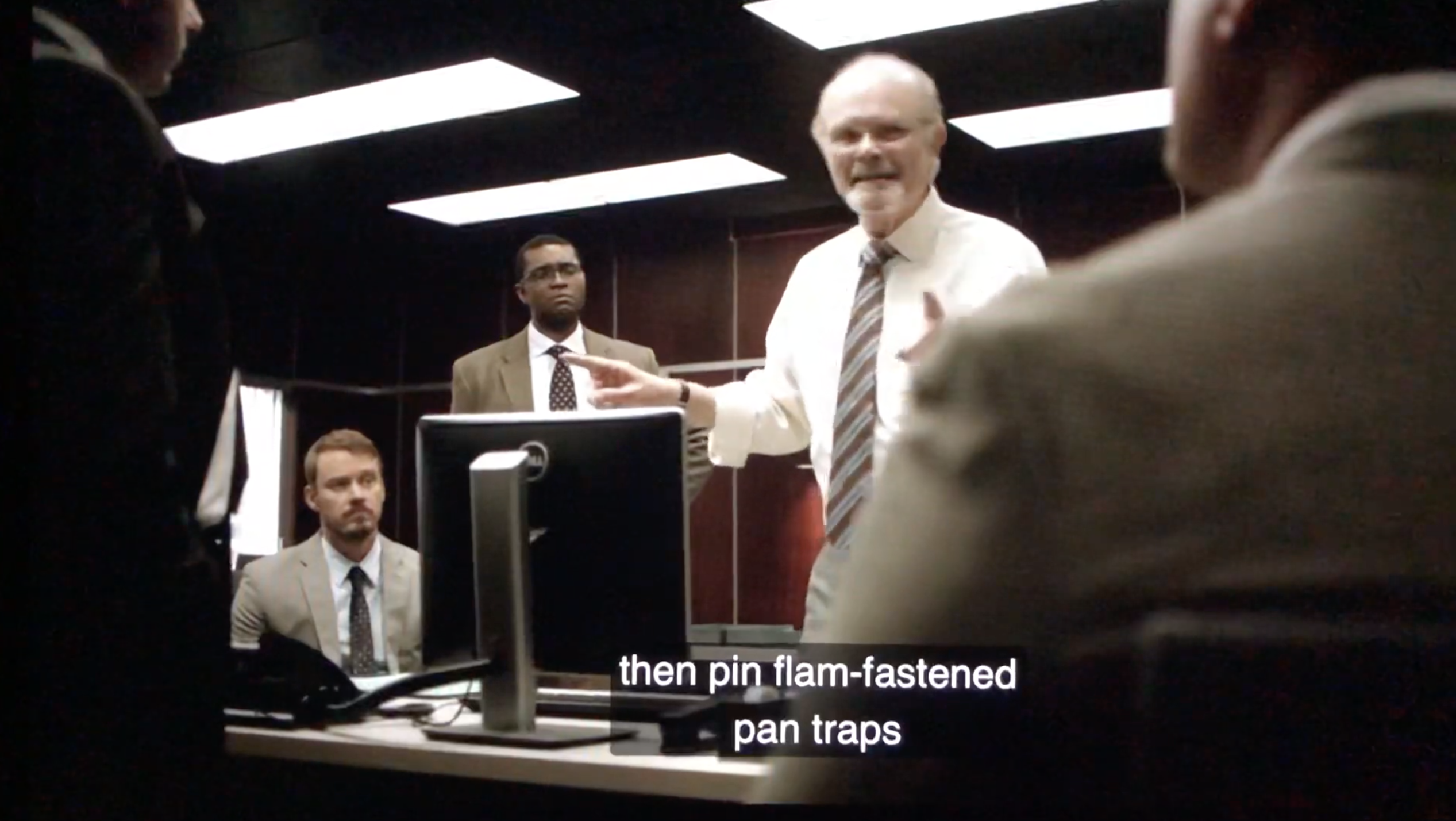 This week my colleague, Jeffrey Weaver, and I were working to fit a lot of technical content into a direct mail piece. To do so he was reading it aloud. He said: "It put me in mind of the sales-pitch lingo from the sublime Patriot, on Amazon. Have you seen it? You must. It might be my all-time favorite writing for TV, this bit for one." You are so right, Jeffrey. This is hilarious.
Video: Patriot Piping Lingo The McMillan Way
Oneliners
Anonymous NJ Donor Will Pay Small Business Rents
The Pandemic Proves We All Should Know 'Psychological First Aid.' Here Are The Basics.
US Library Of Congress Launches AI Tool That Lets You Search 16 Million Old Newspaper Pages for Historical Images
Playlist
This cut, Fourteen Years, driven by a groovy string bass, reminds me why I love beatnik jazz.
"Le Volume Courbe, aka Charlotte Marionneau whose music you may have recently heard in Killing Eve, is gearing up to release her first new album in five years. It's coming out in the form of three EPs, the first of which is called Fourteen Years and will be out November 13 via Honest Jons Records.
"Marionneau, who notably spent the last few years in Noel Gallagher's High Flying Birds as the group's scissors player, found the urge to start making music again after receiving some terrible news — that she had been diagnosed with cancer. 'It became like a vital thing,' she said."
Article: Terry Hall & Noel Gallagher guest on Le Volume Courbe's new EP
Image of the Week
The Image of the Week is by Özcan A?ao?lu. I was led to his Instagram Page by the NYT, via their weekly column 5 Art Accounts to Follow on Instagram Now.
"In beach, street or travel scenes, mostly in and around Turkey, Özcan A?ao?lu captures the unmistakable rhythm of jostling elbows. He's not always shooting a party, necessarily — for every extended family eating watermelon in the country or busy cafe that appears in his feed, there's a solitary swimmer, too, or a man riding the train with a pocketful of mint. But whatever the driving action of a photograph is, Mr. Agaoglu is comfortable leaving it off center, so that you feel as if you're peering across a crowded room to see what's happening on the other side. If there's a woman entering an apartment building with a handful of balloons, you must be headed for the very same party, right behind her; if the scene is a rainy outdoor cafe in Istanbul, you're drinking coffee just across the street. Those rhythmically jostling elbows, in other words, are your own."
What's Clarity First?
If you're new to Clarity First, it's the weekly newsletter by me, Mitch Anthony. I help people use their brand – their purpose, values, and stories – as a pedagogy and toolbox for transformation. Learn more.
If you get value from Clarity First, please pass it on.