"It's not about what it is, it's about what it can become." – Dr. Seuss
Clarity First
A notebook about how we work, and learn, and love and live.
Tom Waits once said that "you can never hold back spring". Well, the same is true for the fall. We're closing the windows at night now, and I'm moving to the "office" on my front porch a little later every day because it's too cool first thing in the morning. But the brisk days and shorter nights also bring an industriousness, a gentle nudge to get ready for the winter.
I hope that you are letting the changing seasons change you, too. Happy Friday.
Community. Communication
Far from a social luxury, tact becomes imperative when life is cheapened. We exercise it to show gentle respect for another.
Wyoming, United States, 1954. Photo by Elliott Erwitt/Magnum Photos
"Looking back over the past century, the historical moments when tact emerged as an ideal on the horizon of sociability were times when life had been cheapened; when humanity was threatened by war, pernicious ideologies, or violence in the bloody aftermath of revolutions. When the mind refuses to grasp the magnitude of a death toll, the idea of cherishing a sensitivity to human individuality feels so distant as to look like an escapist fantasy. Yet, it is precisely its remoteness – the danger of its falling into oblivion – that demands its eloquent affirmation."
Article: On Tact in Dark Times
Purpose, Organizational Health
How to use purpose to stay relevant in a fast-changing world
"In the course of our research, we talked to scores of C-level executives. They worked at 28 companies—in the United States, Europe, and India—that had had an average compound annual growth rate of 30% or more in the previous five years. What we learned from those conversations was that purpose played two important strategic roles: It helped companies redefine the playing field, and it allowed them to reshape the value proposition. And that, in turn, enabled them to overcome the challenges of slowing growth and declining profitability."
Article: Put Purpose at the Core of Your Strategy
Graphic Design, Design Management
A better way to design and maintain a graphic standards manual
"Designers working with brands in 2020 are usually reliant on PDFs when it comes to presenting guidelines to clients. But Standards Manual duo Hamish Smyth and Jesse Reed want creatives to move past this format and instead turn to digital guidelines via their new platform Standards.
"The problem with creating PDF brand guidelines, according to Smyth and Reed, is that it is an inherently static medium. Whenever guidelines are updated or altered, a new PDF needs to be sent out to relevant people and care needs to be taken to ensure everyone involved is using the correct version of assets.
"To fix this problem, Smyth and Reed are developing Standards as an online library-style platform – allowing designers to directly embed elements like animations, typefaces, videos and colour values into their guidelines, where a traditional PDF would not."
Article: Standards Manual Wants to Change How Brand Guidelines Are Designed
Media, Mental Health
New magazine treats mental health as a societal issue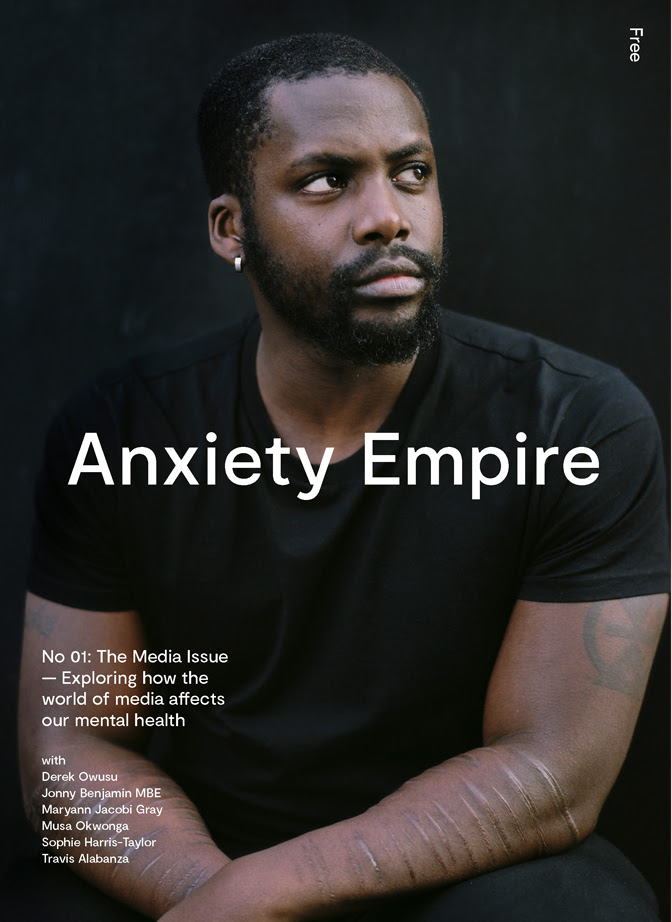 This spring a small team in the UK launched a new magazine called Anxiety Empire. "We are using design for social change," says the founder. "It's free to the public because we believe mental health resources should be accessible for all regardless of income."
In addition to its fresh editorial angle, and its free, and ad-free business model (it's funded by an ongoing Kickstarter campaign), the magazine is set apart by beautiful design and impeccable production standards.
"Our feeling is that, when it comes to mental health, there often isn't enough care – for ourselves or each other," says the team. "Readers can sense the care and love that has gone into it – in the content, the design, the paper, the printing. It feels important to make something where people can sense care has been taken, as it supports the message that mental health is important."
Article: Anxiety Empire is the Free, No-Adverts Mag Exploring the Impact of the Media on Our Mental Health
Branding
Corporate swag done Apple-style
Apple Inc. has developed masks that the company is beginning to distribute to corporate and retail employees to limit the spread of Covid-19.
"Apple told staff that the Face Mask was developed by the Engineering and Industrial Design teams, the same groups that work on devices such as the iPhone and iPad. It is made up of three layers to filter incoming and outgoing particles. It can be washed and reused as many as five times, the company told employees.
"In typical Apple style, the mask looks unique with large coverings on the top and bottom for the wearer's nose and chin. It also has adjustable strings to fit around a person's ears.
"The company, which confirmed the news, said it conducted careful research and testing to find the right materials to filter the air properly while not disrupting the supply of medical personal protective equipment. Apple will start sending the Apple Face Mask to staff over the next two weeks."
The only question, of course, is will they sell to consumers, too?
Article: Apple Design Teams Develop Special Face Masks for Employees
Organizational Health
Default to transparency, and four other ways to build teams when working remotely
"If you can foster a culture of trust, your remote team will thrive. So here are some tips from me and a few of my friends in remote work on how to build trust in a remote team."
Article: 5 Ways to Build Trust When Your Teams Are Working From Home Indefinitely
Communication
How to write an email without sounding tone deaf or misguidedly optimistic during a pandemic
"What is truly appropriate for right now? How can we write an email and be casual without seeming inauthentic, or be personal without seeming smarmy? Should we try out a little humor, even though, for so many people, there is no humor to be found right now?
"Lifestyle and etiquette expert Elaine Swann suggests we try observing what she calls the three core standards of proper etiquette and protocol: respect, honesty and consideration."
Article: I Hope This Email Finds You Well
Oneliners
Zoom is Failing Teachers. Here's How They Would Redesign It
Edible Food Packaging Made From Seaweed Has the Potential to Offset Carbon Emissions Entirely
How Basecamp Became a 100% Remote Company
Just for Fun
Your twin could be anywhere—even in a painting from the Renaissance.
"Some people believe that everyone has a twin. And maybe that's true—if you need proof, just visit an art or history museum! People around the world are finding themselves in the collections of renowned institutions and are snapping pictures with their artsy doubles. The resemblances are often uncanny; it's as if these folks sat for the painting or sculpture themselves."
Article: 20+ People Who Discovered Their Art History Doppelgängers at Museums
Just for Fun
The Dave Grohl and Nandi Bushell drum-off is heating up.
Two weeks ago I told you about the amazing 10-year old drummer, Nandi Bushell, who challenged Dave Grohl of the Foo Fighters to a drum-off with a spot-on cover of that band's song Everlong. Then, last week I told you that he had accepted the challenge by sending her a brand new song by Them Crooked Vultures (a side project for him) called "Dead End Friends". Dave Grohl Accepts 10-Year-Old Drummer's Virtual Drum-Off Challenge. Well, this week she totally nailed that song, too, and he admitted defeat to round one. But he promised that there will more rounds to come….
Playlist
This week my friend and client, John Miller, (his website is going to look really different in a few weeks, btw) wrote me this note: "I was listening to music while I worked today and I thought you might like the artist. You may know of her already, Regina Carter. She is a jazz violinist. Her new release is Swing State: Harmony in the Battleground. I expect it might speak to you."
You're right, John. This music does speak to me. I love how she prefaces the album with a personal statement: "The issue should be respecting one another, and wanting for our fellow man the same things we want for ourselves." And any album that opens with a swinging rendition of Georgia on My Mind has me at hello. Thank you for sharing the reference.
Album: Swing States: Harmony in the Battleground
Image of the Week
The Image of the Week is titled Cupola with Clouds and Ocean. It was shot from inside the International Space Station while in low earth orbit by Roland Miller and Paolo Nespoli. (All images © Roland Miller and Paolo Nespoli, ISS interior images courtesy of NASA and ASI)
"In what is believed to be the first collaboration between an Earth-bound artist and an astronaut in space, photographer Roland Miller and engineer Paolo Nespoli have recorded the momentous journey of NASA's International Space Station (ISS). The two have been working together during the last few years to document the current technologies and sights of modern space travel. They've shot extraordinary photographs of an ocean blanketed with clouds, the wire labyrinths lining the vehicle, and astronaut's bulging suits and helmets."
Article: An Astronaut and Photographer Collaboratively Document the Vast International Space Station in a New Book
What's Clarity First?
If you're new to Clarity First, it's the weekly newsletter by me, Mitch Anthony. I help people use their brand – their purpose, values, and stories – as a pedagogy and toolbox for transformation. Learn more.
If you get value from Clarity First, please pass it on.