"Words like 'freedom,' 'justice,' 'democracy' are not common concepts; on the contrary, they are rare. People are not born knowing what these are. It takes enormous and, above all, individual effort to arrive at the respect for other people that these words imply.

– James A. Baldwin
Love & Work
A notebook about how we work, learn, love and live.
Signs of disrespect sure are easy to find nowadays. But so, too, are manifestations of good-hearted intentions, you just have to dig a little more. Here's a few I dug up this week.
Happy Friday.
Systems Thinking
Steward Brand is still optimistic.
Stewart Brand was a Merry Prankster. He promoted New Games and World Game. He initiated the San Francisco Trips Festival. He coined the term "personal computer". He predicted that computers would be the next important trend after psychedelic drugs. He showed us the Media Lab. He asked us to notice how buildings learn.
When I was 17, in The Whole Earth Catalog, he showed me who else was thinking about long term view, systems thinking, ecology, sustainability, DIY life, watershed consciousness, psychedelics, spirit, and community/economy. He did it by showing me a whole lot of other people who weren't waiting but just figuring out how to run a business, or a farm, or a magazine, or a school. He promised and delivered: "Access to tools".
John Markoff, who reported on science and technology for The NY Times from 1988 to 2017, just wrote a book about my first hero – "Whole Earth: The Many Lives of Stewart Brand". The Times just published a chapter.
Article: What the Silicon Valley Prophet Sees on the Horizon
Design
"A love letter to creativity"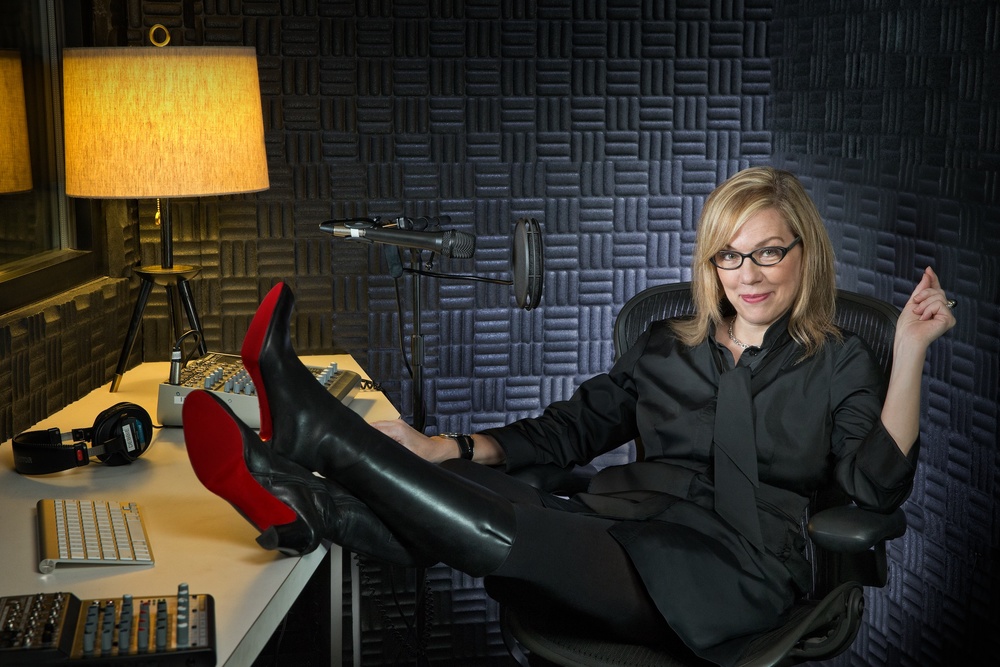 John Madere
"Debbie Millman an author, educator, curator, brand consultant and the host of the podcast "Design Matters," one of the world's first and longest-running podcasts. In the 16 years since its inception, 'Design Matters' has garnered a Cooper Hewitt National Design Award, six Webby nominations, and an Apple Podcasts 'best overall podcast' designation."
Her newest book, Why Design Matters, "brings together 55 of the podcast's most inspiring interviews with a wide range of creative luminaries, from designers and artists to writers, musicians, filmmakers, chefs, and public thinkers — all marked by Millman's boundless curiosity for 'how the most creative people in the world create their lives.'" – Stephanie Salomon
Article: The Creative Interviewer: Debbie Millman on Why Design Matters
How We Live
The point of evolution is to pass genes down.
"The reason love evolved was to motivate and reward us for taking part in relationships, critical to our survival. That goes for our reproductive partners, children, and extending to our friends. Humans are highly cooperative because we have to be. A species will be solitary unless it absolutely has to cooperate with somebody else. And that's fine, except it's incredibly stressful. You have to spend a hell of a lot of time monitoring everybody else's behavior, making sure you're spotting those people who are trying to cheat you or steal from you.
"And the way evolution made sure we cooperate was to come up with chemical bribery. At the basis of love are four neurochemicals. Each has a different role but together they motivate us or to give us confidence to go into social relationships. Ultimately, we get addicted to those chemicals. We get this hit of joy, of euphoria, of reward when we interact with the people important to our survival. It's biological bribery. It's like if I give my kids a sweet because they've done something good, which is bad parenting, but it works." – Anna Machin
Article: Love Is Biological Bribery
Systems Thinking, Design
The outsized influence of Christopher Alexander
"This week came news of the passing of Christopher Alexander, widely described as one of the most influential architects and urbanists of the last half-century. Robert Campbell, the Pulitzer Prize-winning architecture critic for the Boston Globe, probably spoke for many when he observed that Alexander 'had an enormous, critical influence on my life and work, and I think that's true of a whole generation of people.'
"Certainly, a remarkably diverse group of architects, urban planners and researchers claims to have been influenced by Alexander, including Rem Koolhaas, Andrés Duany, Bill Hillier, and many more. Many other widely known theorists and authors were influenced by him too, including Stewart Brand.
"Alexander's influence also extended far beyond architecture and urbanism. Ward Cunningham, inventor of wiki (the technology behind Wikipedia), credits Alexander with directly inspiring that innovation, as well as pattern languages of programming, and the even more widespread Agile methodology.  Will Wright, creator of the popular games Sim City and The Sims, also credits Alexander as a major influence, as do the musicians Brian Eno and Peter Gabriel. Apple's Steve Jobs was also said to be a fan.
"Moreover, one can also find direct applications of Alexander's pattern language methodology in product design, engineering, anthropology, sociology, biology, and many other fields. In fact, the chances are that every day, you are using—in your iPhone, on your computer, when you use Wikipedia or Google, or in countless other ways—some form of Alexander-inspired technology." – Michael W. Mehaffy
Article: Why Christopher Alexander Still Matters
Economy
"99% of humanity" is worse off due to Covid-19 while the world's 10 richest men have doubled their fortunes during the pandemic.
"In a new report titled 'Pandemic of Greed,' Oxfam offers a grave assessment of the current state of the public health emergency in an effort to bury the notion that the coronavirus is on its way out and normality is on the horizon—a rosy and potentially dangerous sentiment voiced in recent days by the leaders of rich nations and the executives of powerful pharmaceutical companies." – Jake Johnson
Article: After Two Years of Covid, Report Finds Pandemic Made Far Deadlier by 'Greed'
Advertising, Corporate Social Responsibility
Discrimination is bad for business.
"On March 11, a letter signed by more than 60 companies appeared as a full-page ad in the Dallas Morning News, stating that "discrimination is bad for business." Composed by the Human Rights Campaign, the letter calls on Texas officials (and those around the country) to reject Gov. Greg Abbott's directive to classify certain pediatric gender-affirming health care procedures as child abuse and investigate familes with transgender children who have undergone them.
"'The recent attempt to criminalize a parent for helping their transgender child access medically necessary, age-appropriate healthcare in the state of Texas goes against the values of our companies,' the letter states.
"Company signees spanned across industries, from tech (like Google, Apple, and Meta), to retail (H&M and Gap), to media companies and agencies.
"Graham Smith, global LGBTQ+ ERG chair at VMLY&R, which also signed the letter, said the agency decided to speak out publicly on the issue to show their ~200 Texas employees that they support them: 'I feel like work is like so much of what we do that I don't want to add on any pressure or anything else. We want work to just be such a caring, free environment for all of our staff.'" – Katie Hicks
Article: In Full-Page Ad, Brands Take Stand Against Trans Discrimination in Texas
Graphic Design, Self Promotion
The FBI created a document to help it translate and monitor slang on the internet. Pentagram New York turned it into an annual holiday gift.
"Just like any part of language, internet lingo never stops evolving. In 2014, the FBI commissioned a study of the jargon, creating an 83-page document to help it translate and monitor chat on social media. Now Pentagram has paid homage to this glossary by designing its own book, complete with custom typefaces inspired by FBI agent jackets." – Katy Cowan
Article: The FBI Guide to Internet Slang: Pentagram's new booklet on the most cryptic acronyms
One-liners
Article: Baltimore Museum Guards Take Seats at the Curators' Table
Article: Arts Sector Shrank at Twice the Rate of US Economy During Pandemic, NEA Finds
Playlist
"No musician has sung, played, and written more different kinds of American music than Willie Nelson. And no musician was more important to Willie than his older sister Bobbie, who died March 10. She was 91. The two played together for an astonishing eighty-plus years, from the time they were children in tiny Abbott, Texas, to their last show at the Whitewater Amphitheater in New Braunfels on October 9. Through all those performances—in their humble living room growing up; at Austin's scrappy, surreal Armadillo World Headquarters in the seventies; at the later, near-nightly triumphs in storied halls like London's Royal Albert—Bobbie grounded Willie. She gave him security and direction. Sometimes she led him; other times he led her. They shared something sacred that everyone else could only admire. 'When we get into music,' she once said, 'something happens. There's magic between me and Willie.'" –  John Spong and Michael Hall
Video: Willie Nelson, Sister Bobbie – Who'll Buy My Memories
Article: Sister Bobbie Grounded Willie Nelson in His Music—and His Life
Image of the Week
"As they were escaping Kyiv by car, my friends came and picked me up. I didn't have much time to think, I just knew I had to get to my grandmother because she is all alone in the countryside. I left Kyiv with no materials, but here at my grandmother's I recalled my old habit to sketch on wallpaper scraps. I found some old crayons and gouache that my younger brother left while visiting last summer, and some charcoal. The ladies with the flag and tank in this painting appeared from my impression of the Kherson Defenders. One of the men jumped on a tank with a Ukrainian flag waving in his arms. You can see 'fuck off' written on the tank in Ukrainian." – Sana Shahmuradova, 25, a painter from Kyiv
Article: Sixteen Days in Ukraine, the First Generation Born After Ukraine Won Independence Documents the Beginning of the Russian invasion.
What's Love & Work?
Love & Work is the weekly newsletter by me, Mitch Anthony. I help people use their brand – their purpose, values, and stories – as a pedagogy and toolbox for transformation.
If you get value from Love & Work, please pass it on.