"If the world is to be healed through human efforts, I am convinced it will be by ordinary people, people whose love for this life is even greater than their fear."

– Joanna R. Macy
Clarity First
A notebook about how we work, and learn, and love and live.
There is nothing quite like a June day in Massachusetts. Today it is 72 and sunny, and from where I sit on my front porch I can watch a robin duck in and out of her nest with fresh food. Debbie and I are getting ready to entertain family at the dining room table again, and on Sunday we will leave with our daughter Mia and her boyfriend Brenden for a vacation in Provincetown, one of our favorite places. Life is good.
Happy Father's Day to the dads, and Happy Solstice and happy Friday to all.
Organizational Health
A simple policy that prevents a hostile work environment and allows big ideas to flourish

Gwynne Shotwell, president and chief operating officer of SpaceX.  Dia Dipasupil/Getty Images
"SpaceX president Gwynne Shotwell on Monday said the aerospace company's "no a–hole" work policy ensures everyone is heard and creates space for staff to propose big ideas.
"'At SpaceX, we have a "no a–hole" policy,' Shotwell said in a virtual speech to graduates in Northwestern University's 2021 commencement ceremony. 'These kinds of people — a–holes — interrupt others, they shut down or co-opt conversation, and they create a hostile environment where no one wants to contribute,' Shotwell said. She is also SpaceX's chief operating officer.
"Interrupting others stifles innovation and stops people solving difficult problems, Shotwell said.
"'In short, the best way to find solutions to hard problems is to listen harder, not talk louder,' she said. 'Embrace the ideas of your fellow workers, especially when they differ greatly from yours'."
Article: SpaceX President Gwynne Shotwell Explains the Company's 'No A–Hole' Policy
Purpose
The 2021 Purpose Power Index found that the link between a company's reputation and purpose has grown stronger since 2019.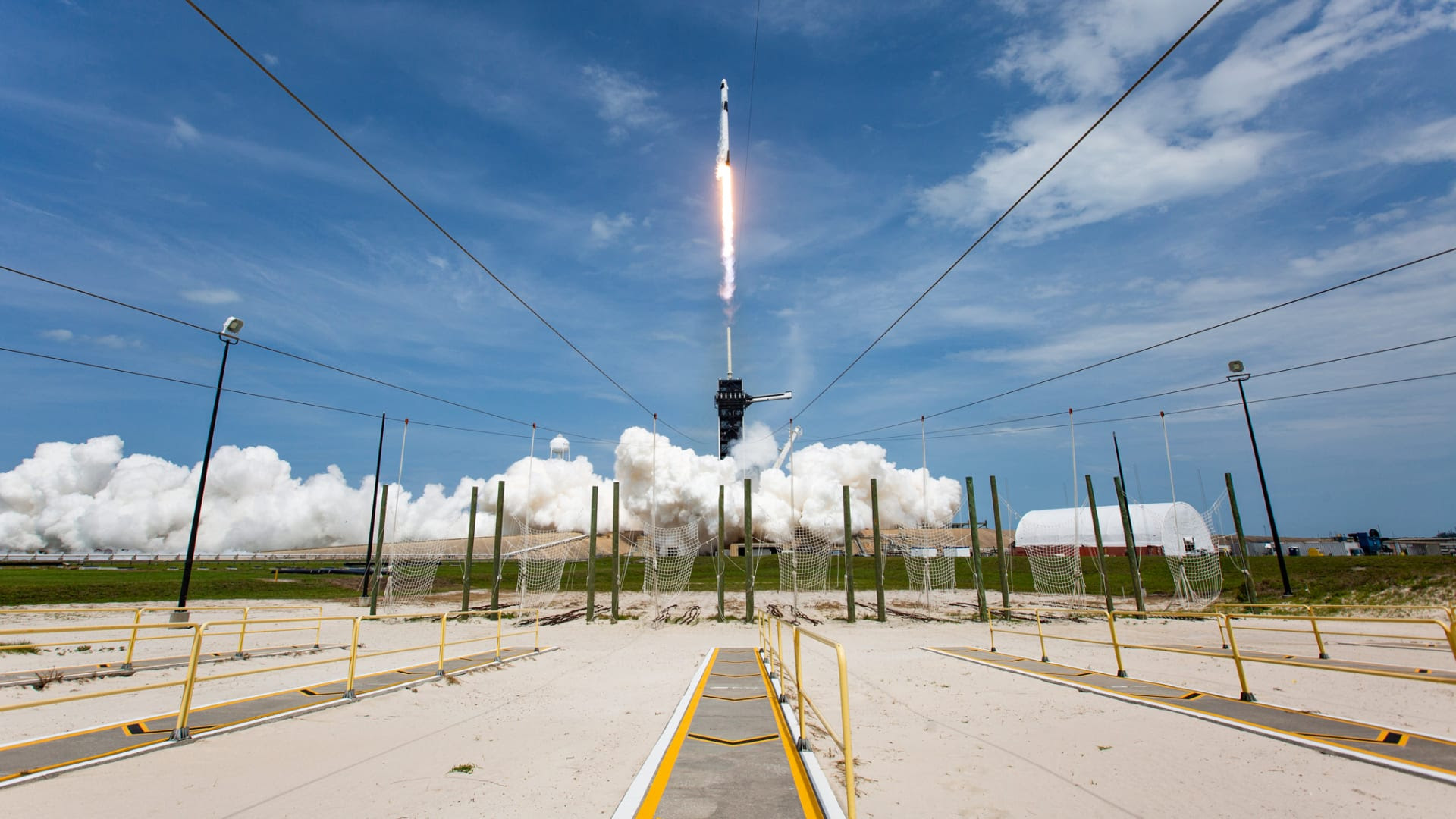 Photo via NASA
"Published by the marketing and advertising agency StrawberryFrog and corporate reputation management company RepTrak, the 2021 Purpose Power Index is based on a survey of more than 6,500 respondents about more than 200 brands.
"Ecofriendly cleaning and personal care company Seventh Generation was the most purposeful company on the list, followed at No. 2 by the shoe and apparel company Toms. Conducted in January, the study measured corporate brand purpose using an algorithm that looked at four main elements: standing for more than just making money; improving the lives of people and communities; benefiting society as a whole; and changing the world for the better."
Article: SpaceX, Seventh Generation, and Toms Among Most Purposeful Brands, According to New Study
Research
"It's not the customers' job to know what they want."
I have never, ever, learned anything of value by watching a focus group. Instead, what I have seen again and again is a group of apparently intelligent people convincing each other that they are conjuring great insight. Santander UK chief customer and analytics officer, Saj Arshad, agrees.
"I genuinely think there is no role for focus groups any more. Inevitably – and I've sat through millions of them as have all of you – one guy, and it will always be a guy, will lead the entire group down a rabbit hole. I just think they are incredibly unhelpful."
Article: Santander's Marketing Boss on Why There's 'No Role' for Focus Groups
Communication
Rule 1: be courteous
"I recently discovered the emails Dr. Fauci sent during the pandemic that are now available for us to read. I expected to read a lot of drama, and plenty of back forth between him and man with the same name as a famous Disney duck.
"What I read was a masterclass in communication. The 'Fauci Effect' is an unpublished book on communication I'd love to buy. Here's my simplified analysis of his emails for you to cut and paste strategies from."
Article: Dr. Fauci Taught a Masterclass in Communication With the Emails He Sent During the Pandemic
Personal Productivity
"Somewhere along the way, my goals shrank."
"During the destabilizing and most isolating months of the pandemic, my desires shifted entirely. Professional ambitions, for instance — sweeping, difficult, long-term things — washed away, and were replaced with smaller things under my control: taking a walk, calling my friend, meditating for, like, five minutes maybe.
"I wasn't alone. The more I looked, the more I saw it. Last year, and some of 2021, felt like years nearly void of ambition, at least of how we typically think of it."
Article: How the COVID Pandemic Redefined Ambition
Disinformation
Just twelve anti-vaxxers are responsible for almost two-thirds of anti-vaccine content circulating on social media platforms.
"Center for Countering Digital Hate (CCDH) is a UK/ US non-profit that disrupts the spread of digital hate and misinformation. Anti-Vax Watch is an alliance of concerned individuals who are seeking to educate the American public about the dangers of the anti-vax industry."
"The group just released a new research report, THE DISINFORMATION DOZEN, that 'reveals that just twelve individuals and their organizations are responsible for the bulk of anti-vax content shared or posted on Facebook and Twitter. The majority of the Disinformation Dozen remain on major social media platforms, despite repeated violations of their terms of service.'"
Executive Summary: The Disinformation Dozen
Related Article: Anti-Vaxxers Make up to $1.1 Billion for Social Media Companies
Fun
Who knew spreadsheets could be so much fun?
"In honor of Pride month, Google has added a delightful hack to help you inject a little life into your spreadsheets (now there's a sentence). Simply type PRIDE across the first five rows of a sheet, and the whole thing will turn into a colorful rainbow."
Article: This Secret Google Sheets Pride Hack Will Brighten Up Your Day
Oneliners, the Back to Work Edition
Article: 4 Modern Workspace Design Trends to Guide Near-Future Office Spaces
Article: The Empty Office: What We Lose When We Work From Home
Article: The New Office Look Is 'Power Casual,' But Save The Stiletto Crocs For Happy Hour
Article: Why Work Flexibility Should be the Standard, Not a Luxury
Article: Are You Sure You Want to Go Back to the Office?
Playlist
"In the video above, poet, artist, National Book Award winner, and 'godmother of punk' Patti Smith reads a selection from Virginia Woolf's 1931 experimental novel The Waves, accompanied on piano and guitar by her daughter Jesse and son Jackson. The reading marked the opening of 'Land 250,' a 2008 exhibition of Smith's photography and artwork from 1965 to 2007, at the Fondation Cartier pour l'art contemporain in Paris."
Video: Patti Smith – A Reading of Virginia Woolf
Image of the Week
"The beaches are the place of happiness for many people, but Jon Foreman has made them one of his places of expression. Creator of different styles of Land Art, he uses materials he finds in the place he has chosen, even broken glass or ashes and debris in certain abandoned environments. His pieces can be made in different formats. Completely ephemeral, they can disappear quite quickly because of the climate or the people who interfere. 'Jon's practice is not only something he enjoys, but it is also therapy for him, an escape from the stresses of everyday life,' a statement read on his website.
"To find out more, visit his website, Facebook page, or Instagram account."
Article: Land Art by Jon Foreman
What's Clarity First?
If you're new to Clarity First, it's the weekly newsletter by me, Mitch Anthony. I help people use their brand – their purpose, values, and stories – as a pedagogy and toolbox for transformation. Learn more.
If you get value from Clarity First, please pass it on.