"A small group of thoughtful people could change the world. Indeed, it's the only thing that ever has." -Margaret Mead
Clarity First
A notebook about how we work, and learn, and love and live.
As I do every week, here at the home office I've been tracking down some of the people who are working to change the world for the better. Happy Friday.
Futures Thinking, Education
"Unless we are giving opportunity and a quality education to the young men and women in the United States, then we won't have the right people to be able to make the right decisions about our national security. They won't have an understanding of different cultures. They won't have an understand of different ideas. They won't be critical thinkers."
Charles Dharapak/AP Images
"While some former US military leaders have had offered witty one-liners when asked which national security threat keeps them up at night, one former commander had an unconventional answer: 'K-12 education.'"
Article: Navy SEAL Who Oversaw bin Laden Raid Warns America's Biggest National Security Issue is K-12 Education System
Advertising, Social Messaging
How do you get manly mountain men to wear masks? Compare it to bowhunting.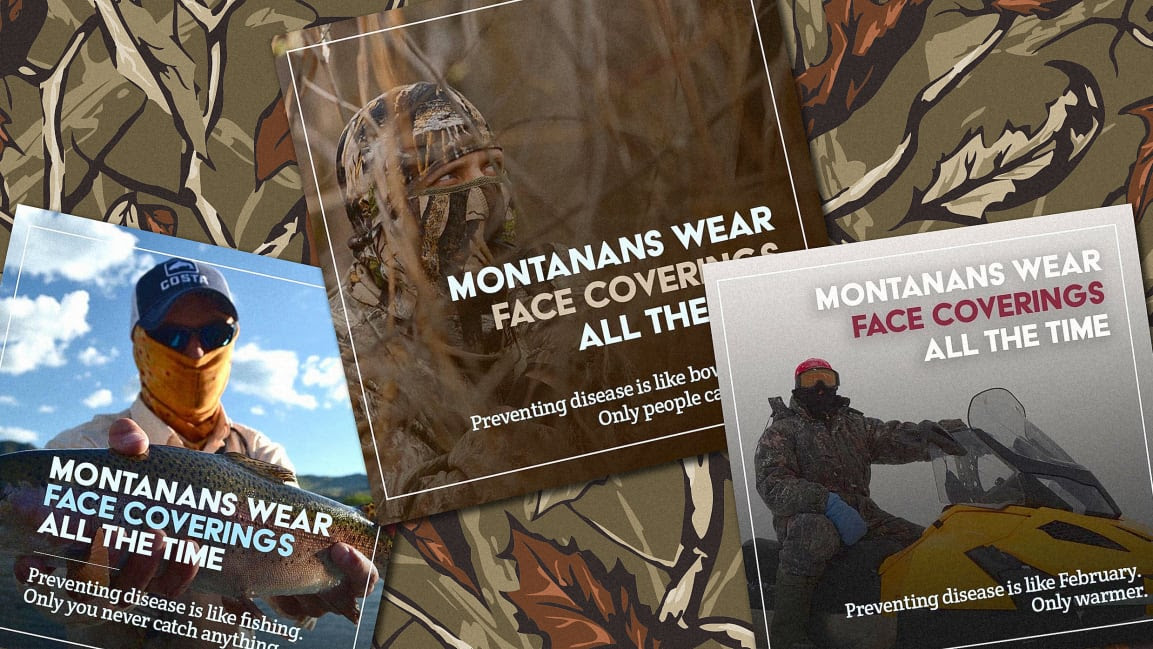 "What will it take to get macho men to wear masks? A recent study by U.C. Berkeley and Middlesex University London found that men are more likely to go out without a mask because they find them uncool, shameful, and a sign of weakness. Governor Steve Bullock of Montana, whose constituents include many fishermen and snowboarders, has some ideas about how to win them over. He has shared a new statewide ad campaign that uses humor to nudge all-American men to wear masks."
Article: Macho Ads That Promote Mask-Wearing Are a Thing Now.
Reperation
"The modern music industry is built almost entirely on Black art. The wealth that rightfully belonged to Black artists was stolen outright and to this day continues to grow outside their communities."
"Wilco frontman Jeff Tweedy has set out a plan for reparations to be made within the music industry.
"It comes after Tweedy last month announced that he would be donating 5% of his songwriting royalties to Black Lives Matter moving forwards.
"'It's not an exaggeration to say our culture wouldn't be our culture without black genius. There's a shameful history there, and there are things the industry should still be ashamed of. There are things about the way Black artists are treated today that are different and unfair. It isn't an equal playing field.'"
Article: Wilco's Jeff Tweedy Sets Out Plan for Reparations in the Music Industry
Branding, Corporate Responsibility
A meangiful initiative from beauty retailer Sephora
"Rather than empty platitudes and blacked out Insta posts they're putting their money where their mouth is and pledging to have a minimum of 15% of the brands they stock come from Black owned businesses."
Writer and creative director Stanley Johnson says that his "daughter is a Floor Manager at Sephora and I can tell you she is as excited about this as I am."
Blog Post: The 15% Pledge
Typography, Identity Design
The Biden campaign is rolling out two new fonts heading into the November election.

A markup of the Biden campaign's new fonts, Decimal (blue) and Mercury (red).  c/o the Biden campaign
The Biden campaign has introduced two new fonts, "Decimal" and "Mercury", for use in all of their communications materials. According to Biden for President Senior Creative Adviser, Robyn Kanner, the typefaces will be tasked with evoking the 2020 presumptive Democratic nominee's campaign ethos of "the battle for the soul of the nation".
"The pair of fonts come from Hoefler & Co., a legendary typeface company behind the lettering seen in iconic American brands, such as Rolling Stone, Twitter, Tiffany & Co., the Guggenheim Museum, Condé Nast, and Nike.
"Hoefler & Co. also came up with the 'Gotham' typeface used by both Obama campaigns, as well as 'Ringside' for The Office of Barack and Michelle Obama."
Article: Biden Campaign Rolls Out New Fonts from Typeface Powerhouse Hoefler & Co.
Design, Systems Thinking
Creative professionals of the new economy must be highly skilled in emotional intelligence and practices of empathy in order to 'design with' instead of 'designing for'. 
Image via Disrupt Design
"We are designing, creating and living on the edge of consequence. With large scale forces like globalization, resource scarcity, and a pending climate collapse abound, anything someone creates — whether it be a product, a service, a policy — has a ripple effect far beyond its initial intended touchpoint. Designers need to be keenly aware of that impact and act as the ultimate system thinkers to address potential negative outcomes. Taking a queue from Meadows, designers should always be visualizing the artefacts they create in systems maps and asking themselves what kind of stock they're feeding and how they are or aren't supporting feedback loops. Of course, to affect the most change, they should be looking at ways in which they can transcend systems paradigms."
Article: Designing on the Edge of Consequence
Worklife
A whole lot of people report that working from home is leading to burnout.
Fishbowl Insight is a publication that focuses on workplace trends and employee perspectives on work-related issues. Recently they asked their readers a simple Yes/No question: "Has working from home during the pandemic caused you to experience workplace burnout?" A huge majority said "Yes".
Article: Pandemic Burnout: 68% Suffering from Workplace Burnout due to WFH; 37% Now Switching Jobs
Media, Books
Woodblock-printed book precedes Gutenburg Bible by 45 years

Image courtesy of Incunabula
"An ancient-book collector is offering a rare glimpse into a Sino-Tibetan book that's believed to have been printed as early as 1410 in Beijing. A self-described bibliophile known as Incunabula, the collector shared a thread containing dozens of images showing inside spreads full of red ink drawings and Ranjana script, a writing system developed in the 11th century. The Gutenberg Bible, which was printed with movable metal type, dates back to 1454, nearly 45 years after this woodblock-produced text."
Article: Page Through This Incredibly Detailed Sino-Tibetan Book Printed in 1410
Playlist
"Ennio Morricone, the celebrated Italian film composer who died on Monday at the age of 91, could elevate any film with his remarkably bold and expressive scores. Spaghetti westerns, Hollywood dramas, Giallo films — they were all his domain throughout an astonishingly prolific career.
"But when you compose more than 500 scores, your work is going to wind up in some unexpected settings. And Morricone's transcendent cues and dramatic flourishes livened up quite a few hip-hop and electronica songs as well, whether he realized it or not. According to the sample junkies over at WhoSampled.com, Morricone's music "has been sampled over 400 times by artists including Jay-Z, Flying Lotus, Eminem and the Orb."
"Rap music has long been obsessed with cinema, and with genre films in particular—think Wu-Tang Clan's obsession with Samurai films or MF Doom's heavy reliance on sampling old horror flicks and monster movies. For '90s rap producers seeking to evoke some cinematic grandeur, Morricone's rich catalog, which includes stirring scores for iconic westerns like The Good, the Bad and the Ugly, must have seemed like a gold mine, pun intended. And it's a gold mine the rap genre has been returning to for 30 years."
Article: A Brief Guide to the Endless Hip-Hop Samples of Ennio Morricone
"Andrew Bird also paid tribute, posting a new cover of Morricone's 'A Fistful of Dollars' theme. Given Bird's talent for whistling, his choice to cover the whistle-filled song from the 1964 Spaghetti Western film of the same name, which saw Clint Eastwood starring in his first leading role, was a particularly fitting choice."
Watch: Andrew Bird Pays Tribute to Ennio Morricone with "A Fistful of Dollars" Cover.
(Man, can Andrew Bird whistle, or what?)
Image of the week
The image of the week is of a double-crested cormorant fishing for sardines in Los Isoletes, Mexico. It was shot by outdoor adventure photographer Joanna Lentini. The image earned her the honor of Grand Prize Winner in the National Audubon Society's 2020 Audubon Photography Awards.
Article: The Winners Of The 2020 Audubon Photography Awards Are Spectacular.
What's Clarity First?
If you're new to Clarity First, it's the weekly newsletter by me, Mitch Anthony. I help people use their brand – their purpose, values, and stories – as a pedagogy and toolbox for transformation. Learn more.
If you get value from Clarity First, please pass it on.