"Imagination is more important than knowledge. Imagination is the language of the soul. Pay attention to your imagination and you will discover all you need to be fulfilled." – Albert Einstein
Clarity First
A notebook about how we work, and learn, and love and live.
This week I want to give the opening words to Amanda Gorman, who blew our minds at last week's inauguration with her performance (it was so much more than a reading) of her poem The Hill We Climb. That poem closes with these words:
"We will rebuild, reconcile and recover.
And every known nook of our nation and
every corner called our country,
our people diverse and beautiful will emerge,
battered and beautiful.
When day comes we step out of the shade,
aflame and unafraid,
the new dawn blooms as we free it.
For there is always light,
if only we're brave enough to see it.
If only we're brave enough to be it."
If only we're brave enough to be it. Happy Friday.
Living Together
"Here's another idea: Drop the argument and change the subject."
CRAIG RUTTLE / REDUX
"Millions of Americans sympathize with the Capitol insurrection. Everyone else must figure out how to live alongside them."
"But how? Clearly we need regulation of social media, but that's years away. Of course we need better education, but that doesn't help us deal with the armed men who were standing outside the Ohio statehouse this week.
"Here's another idea: Drop the argument and change the subject. That's the counterintuitive advice you will hear from people who have studied Northern Ireland before the 1998 peace deal, or Liberia, or South Africa, or Timor-Leste—countries where political opponents have seen each other as not just wrong, but evil; countries where people are genuinely frightened when the other side takes power; countries where not all arguments can be solved and not all differences can be bridged. In the years before and after the peace settlement in Northern Ireland, for example, many "peacebuilding" projects did not try to make Catholics and Protestants hold civilized debates about politics, or talk about politics at all. Instead, they built community centers, put up Christmas lights, and organized job training for young people.
"This was not accidental. The literature in the fields of peacebuilding and conflict prevention overflows with words such as local and community-based and economic regeneration. It's built on the idea that people should do something constructive—something that benefits everybody, lessens inequality, and makes people work alongside people they hate. That doesn't mean they will then get to like one another, just that they are less likely to kill one another on the following day."
Article: Coexistence Is the Only Option
Economy
Is growth-focused capitalism making us happy and healthy? Here's a clear alternative.

Marieke van?Doorninck, deputy mayor for sustainability, is trying to make Amsterdam a "doughnut city" Judith Jockel—Guardian/eyevine/Redux
"In April 2020, during the first wave of COVID-19, Amsterdam's city government announced it would recover from the crisis, and avoid future ones, by embracing the theory of "doughnut economics." Laid out by British economist Kate Raworth in a 2017 book, the theory argues that 20th century economic thinking is not equipped to deal with the 21st century reality of a planet teetering on the edge of climate breakdown. Instead of equating a growing GDP with a successful society, our goal should be to fit all of human life into what Raworth calls the "sweet spot" between the "social foundation," where everyone has what they need to live a good life, and the "environmental ceiling." By and large, people in rich countries are living above the environmental ceiling. Those in poorer countries often fall below the social foundation. The space in between: that's the doughnut.
"Amsterdam's ambition is to bring all 872,000 residents inside the doughnut, ensuring everyone has access to a good quality of life, but without putting more pressure on the planet than is sustainable. Guided by Raworth's organization, the Doughnut Economics Action Lab (DEAL), the city is introducing massive infrastructure projects, employment schemes and new policies for government contracts to that end. Meanwhile, some 400 local people and organizations have set up a network called the Amsterdam Doughnut Coalition—managed by Drouin— to run their own programs at a grassroots level."
Article: Amsterdam Is Embracing a Radical New Economic Theory to Help Save the Environment. Could It Also Replace Capitalism?
Related Article: "Doughnut Economic" Model Arrives in California
Strategy
Modern strategy requires new frameworks, skills and new tools.
This week two different people asked me if I developed strategic plans. I said: "Yes, if the organization isn't intent just on reaching specific goals, but instead is open to what emerges as they co-learn and co-lead."  After all, how can anyone predict in a world that is so completely unpredictable? What we can do is to practice being intentionally strategic, to use the process of strategic planning to align behind purpose, mission, vision and agreement about how we act to make the organization more focused, nimble and resilient. Then, coincidentally, I stumbled upon this article.
Article: Practicing Strategy in an Uncertain World
Purpose
Once your purpose is in everything you do, it becomes an indelible part of the customer experience.
"In purpose-led brands, marketers become storytellers; and focus on mobilizing customers, employees and stakeholders on the purpose — and on telling their stories
"They build their purpose into everything they do; and thus, their purpose is communicated to their customers by the very act of conducting business
"Customers want to know the people and values behind the brand; this becomes part of the value proposition
"Stakeholders help purpose-driven companies achieve their purpose and build their brand — and 

hold them accountable for it

"Leaning into purpose attracts customers — and customers that hold back can be cultivated as purpose ambassadors in the future"
Article: Digging Deeper Into Marketing's Pivot Purpose
Branding, Product Development
Learning from the mistakes of other marketers
"NPW is a market research firm specializing in product launches. Its vast pantry—open to clients, not the public—is laid out like a big-box store. Shelves swell with bags of candy, cans of hair spray, peanut butter jars. But instead of dozens of a single item, there's a lone example. Perishables like cookies, removed from packaging, have been dutifully eaten by staff.
"Companies make pilgrimages to avoid their rivals' mistakes. They comb the aisles for ideas, hold brainstorming sessions and seek strategic advice: Why are there so many successful incarnations (toothpaste, laundry detergent, kitty litter…) of Arm & Hammer baking soda? How did Four Loko caffeinated beer lose its buzz? What can be learned from Snausages Fortune Snookies, short-lived fortune cookies for dogs?"
Article: There's a Giant Warehouse Full of Product Launches That Failed
Visual Identity
The power of brand color
Look, these cans have almost no logo. This point-of-purchase campaign for Coke makes a locked-tight case for the indelible power of a brand's color palette. (Whether I'd want to be seen drinking from a can bedecked with gift-card aphorisms is another story.)
Article: 72Andsunny & Coke: Share a Resolution
Laughing
Funny because it's true
Thanks to my friend and partner Liz Solomon for the reference.
Oneliners
Knowing Just 6 Neighbors Can Improve Our Health
Even the White House Logo Got a Makeover. See What Changed
BlackRock Tells CEOs to Prepare for a Zero-Emissions Economy
Criterion Collection is Streaming Flms by Black Filmmakers for Free
Playlist

Video: Black Pumas – Colors (Biden Inauguration Performance)
"On the post-inauguration event Celebrating America, nestled between rock legends like Bruce Springsteen and pop stars Katy Perry and Demi Lovato, came Austin psychedelic soul band Black Pumas with a performance of their song 'Colors' from their 2019 self-titled album. The duo virtually performed straight from the heart of Texas at ACL Live in Austin.
"Black Pumas are made up of vocalist Eric Burton, 31, and guitarist/producer Adrian Quesada who met and formed the band in 2018. Quesada, a forty-something, worked with the likes of Prince and Daniel Johnston, as well as Austin Latin funk band Grupo Fantasma before itching to start his own project in 2017. The magic started when a mutual friend connected Quesada to Burton, who at the time was busking in downtown Austin. Their self-titled debut album was released in 2019, and 'Colors' hit number one on Billboard's adult alternative chart in February 2020.
"Black Pumas's sound encompasses the gritty blues and rock Austin is known for, joined with soul and psych tones that bring new life and underscore Burton's silky smooth vocals. It's the sweet balance of modern and retro at the same time, akin to Grammy-nominated Coming Home by fellow Texan Leon Bridges or Grammy-winning Sound and Color by Alabama Shakes."
Article: Fall Deeper in Love With Black Pumas, Inauguration and Grammy Showstoppers
Image of the Week
The image of the week is titled Amanda Gorman & the Hill We Climb, by my friend and colleague Gayle Kabaker.
Writing in her own newsletter this week she told the story of making the painting, and of meeting Amanda earlier this year:
"Watching Amanda on her well deserved rocket ship to stardom has been so much fun! I took screen shots while she spoke and painted her right after she finished.  I tried drawing with an ink dropper line first."
"Then I painted her and added the words that had really stayed with me.
Many of you know that Amanda is on the cover of the book- Vital Voices -100 Women Using Their Power to Empower, published by Assouline. There is an exhibition of all these portraits at the Kennedy Center – that's still up! "
"I thought it'd be fun to share a bit of the story of how I came to paint Amanda.
"I got into the elevator at my hotel in Washington DC to go to the gallery event where a few of my paintings were in a show sponsored by Vital Voices – 'the art of disruption.' There was this vision of gorgeousness in a cherry blossom dress and something made me ask her if she was going to the VV event and she was. It was Amanda! 
"When I got back to my studio a few days later I was inspired to paint Amanda in her cherry blossom dress."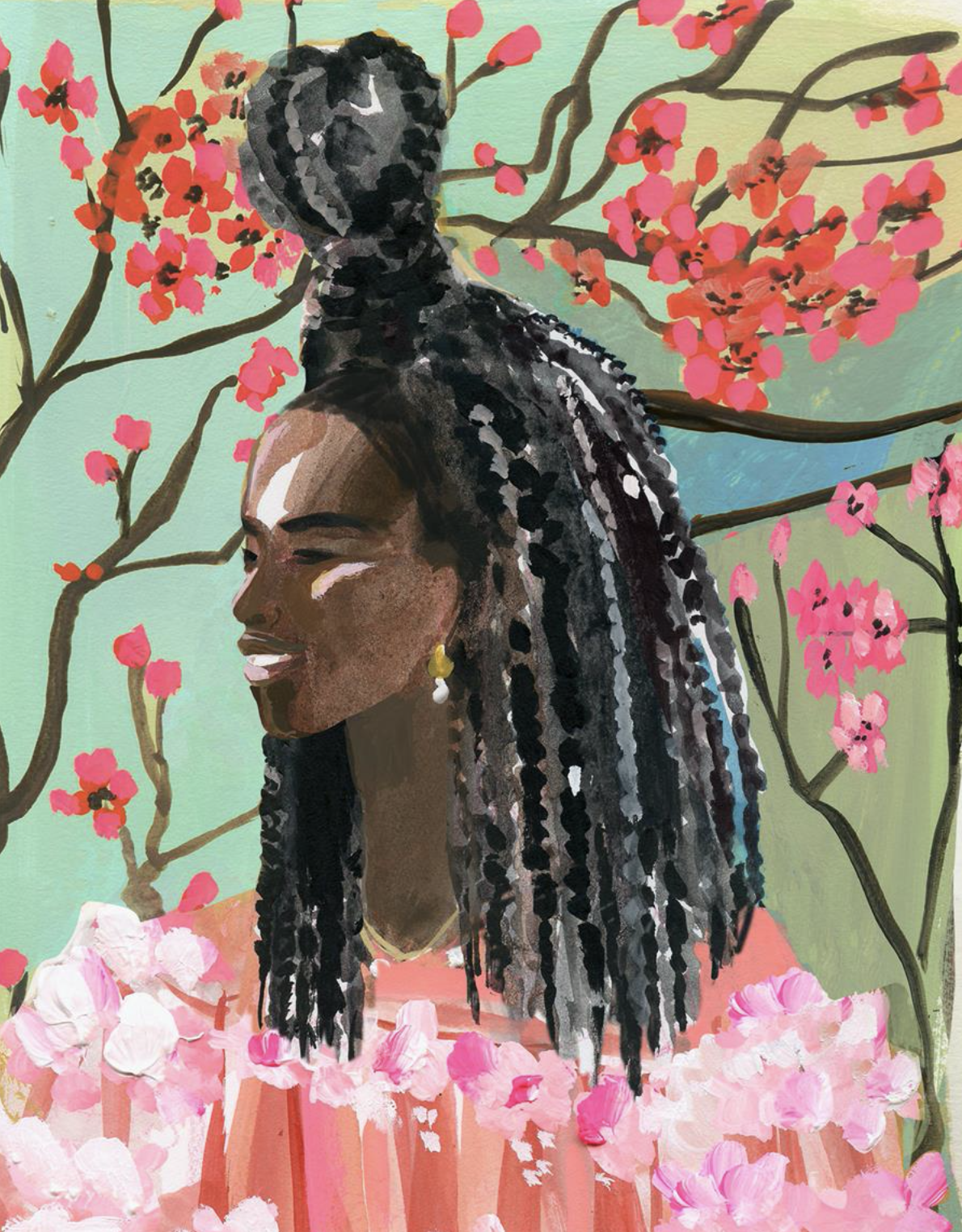 Gayle has prints of the Image of the Week for sale at her website: Gayle Kabaker
What's Clarity First?
If you're new to Clarity First, it's the weekly newsletter by me, Mitch Anthony. I help people use their brand – their purpose, values, and stories – as a pedagogy and toolbox for transformation. Learn more.
If you get value from Clarity First, please pass it on.