"There is no beginning to an end
But there is a beginning and an end
To beginning." – Gertrude Stein
Clarity First
A notebook about how we work, and learn, and love and live.
It's the first day of a brand new year. Here's a toast to learning from the dumpster fire that was 2020. Here's to co-creating a world that is just, fair, equitable and environmentally healthy. As last year so aptly demonstrated, the alternative is just too scary, ugly and depressing. Here's to new and happier beginnings.
Happy Friday. Happy New Year.
Futures Thinking
Millennials and Generation Z are getting more and more powerful.Civil resistance movements are growing and intersecting. The financial sector is increasingly waking up. Solar, wind, and energy storage costs continue to decline rapidly, making clean energy cheaper than fossil fuels in most of the world. The ground is ripe for change.
Writing in Crowd Sourcing Sustainability, Ryan Hagen makes a pretty good case that as we put 2020 in the rear view mirror, we have some very good reasons to feel optimistic.
Article: Reasons for Hope Going Into 2021
Learning
"Weave people, purpose
and commitment to climate —
then watch value rise."
In what has become an annual tradition, GreenBiz magazine asked smart cities consultant, Sue Lebeck, to summarize the year's progress is realizing sustainability, in verse.
Article: The Sustainability Year 2020 in Review, in Haiku
Economy
Most people cannot afford Homer and Marge's simple lifestyle today.
TWENTIETH CENTURY FOX FILM CORPORATION
"The most famous dysfunctional family of 1990s television enjoyed, by today's standards, an almost dreamily secure existence that now seems out of reach for all too many Americans. I refer, of course, to the Simpsons. Homer, a high-school graduate whose union job at the nuclear-power plant required little technical skill, supported a family of five. A home, a car, food, regular doctor's appointments, and enough left over for plenty of beer at the local bar were all attainable on a single working-class salary."
"…The Simpsons started its 32nd season this past fall. Homer is still the family's breadwinner. Although he's had many jobs throughout the show's run—he was even briefly a roadie for the Rolling Stones—he's back at the power plant. Marge is still a stay-at-home parent, taking point on raising Bart, Lisa, and Maggie and maintaining the family's suburban home. But their life no longer resembles reality for many American middle-class families."
Article: The Life in The Simpsons Is No Longer Attainable
Home
For those enduring the mental and emotional challenge of social isolation during coronavirus, cold-weather concepts like hygge offer insights on how to cope.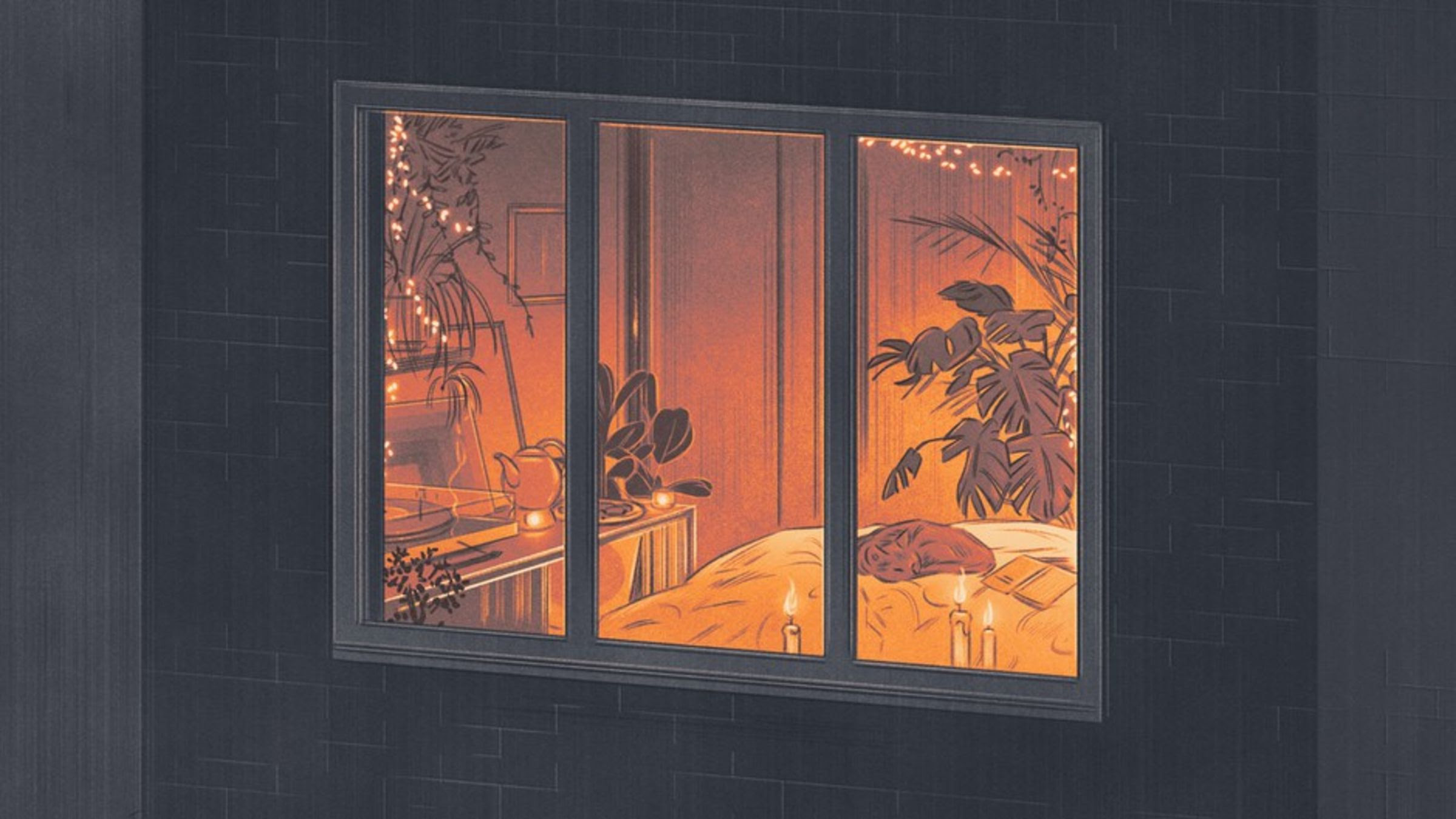 Illustration: Isabel Seliger
"Hygge is a Nordic concept that roughly translates to 'coziness,' but is more than that. It's a philosophy that emphasizes more intentional ways to find delight in your surroundings, even in the worst circumstances, according to Meik Wiking, the CEO of Denmark's Happiness Research Institute and the author of 'The Little Book of Hygge: The Danish Way to Live Well.' The Danish incorporate hygge into their lifestyle as part of as a 'survival strategy' for winter days in which they have to stay inside, and with limited sunlight. And over the last few years, it's gained traction in North America as a way to cope with the bleakness — and discover the joys — of their own winters."
Article: What We Can Learn From Coziness Culture About the Art of Staying Home
Personal Productivity
To get more done, set smaller goals.
"January is a great time to make real changes in your life. You know when else is great? Any day of any month when you're prepared with a solid, backstopped plan.
"Sound intimidating? It doesn't have to be. What you don't need is a Big Hairy Audacious Goal and a will of iron. You don't need a massive supply of 'grit.' Instead, you need to set the bar LOW. Real low. Then vault over that bar with the wings of an angel.
"The secret to hitting those big creative goals is not about waiting for inspiration, and then heroically throwing yourself at the work for days or weeks at a time, it's actually taking much smaller steps, much more often."
Article: Against Grit: Why Setting the Bar Low is the Key to Making Real Change in Your Life
Learning
"Thinking in maps is substantively different from thinking in sentences."
Walt Disney's business map (Peter Duke)
"What do hieroglyphs, flowcharts, road signs, and knowledge graphs have in common? They're all thinking maps. Humans have been thinking in maps since the very first symbolic communication systems.
"While thinking in maps may first bring to mind the idea of cartography, a map does not need to be geographic—it can be any symbolic depiction of the relationship between elements of some physical or mental space, such as themes, objects, or areas.
"In the December 2007 edition of Philosophy of Mind, Professor Elisabeth Camp, whose research has focused on forms of thoughts that do not fit standard models, wrote: "Thinking in maps is substantively different from thinking in sentences."
"In this article, we will explore the inception of thinking in maps, from the Lascaux caves to Ancient Egypt, Babylon, and China, all the way to modern information science and knowledge management, with references to great map thinkers such as Leonardo Da Vinci, Isaac Newton and Walt Disney, across philosophy, religion, geography, business, arts, and science."
Article: Thinking in Maps: from the Lascaux Caves to Modern Knowledge Graphs
Visual Identity
As healthcare becomes more customer-centric, so does its visual identity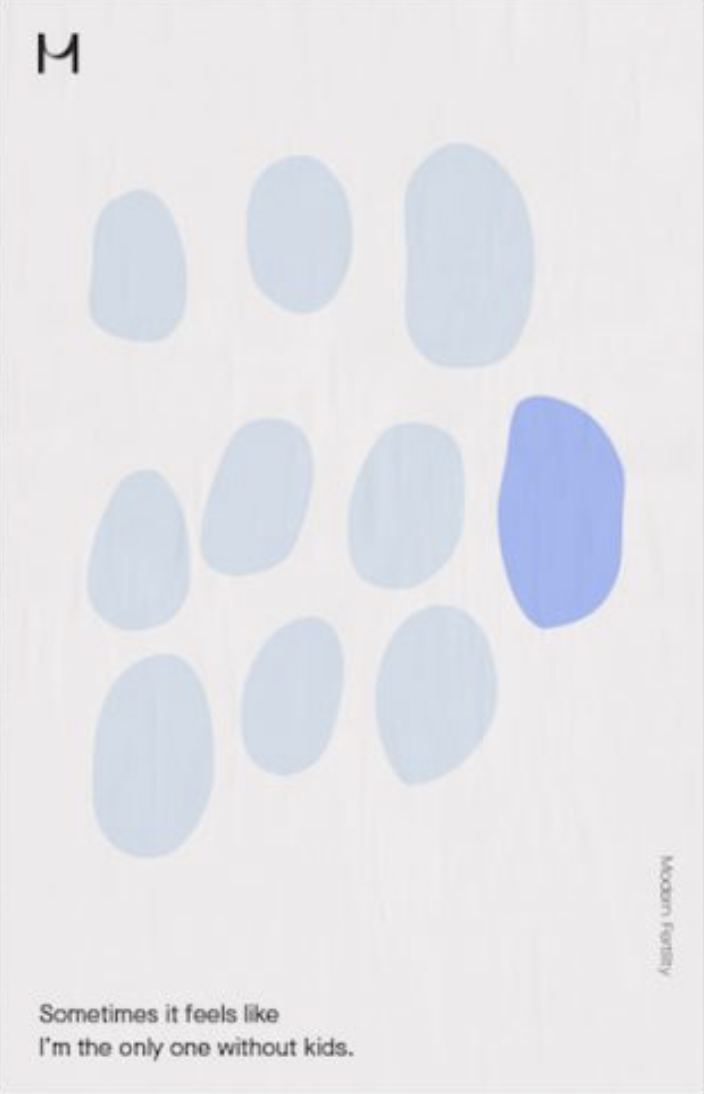 Modern Fertility positioning campaign. Image via Wolf Olins
"Over the last couple of years, a new generation of healthcare startups has emerged with branding and experience design that's aiming to reach a new, more design-savvy audience—one that's most likely on Instagram. Today, companies spanning the spectrum of the healthcare industry, from membership-only clinics like Tia, Parsley Health, and One Medical, to medical companies and projects like Sage Therapeutics, Modern Fertility, and Yona Care, are embracing a trendier and more customer-friendly aesthetic. This style feels, in many cases, like it could be transplanted onto any number of current digitally-focused brands."
Article: High-design Healthcare Is Getting the Millennial Branding Treatment
Oneliners
In 2019, More Americans Went to the Library Than to the Movies. Yes, Really.
Are You Sure You Want to Go Back to the Office?
London Is "Rewilding" and Native Species Are Flocking In
Playlist
Every time I listen to a symphony orchestra or watch and listen to an opera, I think "If humans can do this, then we can make world peace, too".
This inspiring flashmob orchestra and choir is a perfect case in point. Look at the joy in the faces of the community the music spontaneously sparks. The photo above is of the arms of the conductor framing two girls who are imitating his movements. The film is full of images as sweet and uplifting as this one.
We can learn to work together. It is so worth the effort.
Video: Som Sabadell flashmob – BANCO SABADELL
Just in time to ring in the new year, this week Elvis Costello released a new rocker named Farewell OK 2020. For an artist who in recent years I've taken to associating with ballads and Burt Bacharach covers, it is refreshing to hear him return to his new wave rock roots. The Farfisa organ is back, as is a beat that is very easy to dance to. Perhaps not coincidentally, the energy of this song recalls Armed Forces, an album that was just re-released in honor of its 40th anniversary.
Listen: Farewell OK 2020
Image of the Week
"Taken aboard Apollo 8 by Bill Anders, this iconic picture shows Earth peeking out from beyond the lunar surface as the first crewed spacecraft circumnavigated the Moon, with astronauts Anders, Frank Borman, and Jim Lovell aboard."
Article: We Saw Earth Rise Over the Moon in 1968. It Changed Everything.
What's Clarity First?
If you're new to Clarity First, it's the weekly newsletter by me, Mitch Anthony. I help people use their brand – their purpose, values, and stories – as a pedagogy and toolbox for transformation. Learn more.
If you get value from Clarity First, please pass it on.