"your purpose
your art
will land in the hearts
it's meant to

you won't be for everyone

but you are for someone

and to that someone
what you have to give matters

and that's the beginning
of everything."    – Danielle Doby*
Clarity First
A notebook about how we work, and learn, and love and live.
The poem above (thank you Tina Roth*) really resonates with me. Colleagues and collaborators, you've heard me say this 100 times: focus your attention on those who are looking for you as hard as you are looking for them. And the only way to do that is to try and try again to authentically express your purpose through your art, whatever your art is.
Yes, it's hard. That's why they call it a life's work.
But I bet it will keep you interested. And I bet you'll end up helping others do the same.
Happy Friday.
Learning, Community
We must become scholars of belonging.
The Center for Humans & Nature has been exploring how we create communities to which all of us can belong. Writer, editor and activist adrienne maree brown posted six specific ways she thinks we can do so. Here's one. They're all worth reading.
"Task: We must become scholars of belonging.
"Need: Separation weakens. It is the main way we are kept (and keep each other) in conditions of oppression.
"Truth: Belonging doesn't begin with other people accepting us. It begins with our acceptance of ourselves. Of the particular life and skin each of us was born into, and the work that that particular birth entails.
"Mantra: Where we are born into privilege, we are charged with dismantling any myth of supremacy. Where we are born into struggle, we are charged with claiming our dignity, joy, and liberation.
"Possibility: From that deep place of belonging to ourselves, we can understand that we are inherently worthy of each other. Even when we make mistakes, harm each other, lose our way, we are worthy.
"Practice: Learn to apologize. A proper apology is rooted in this worthiness – 'I was at my worst. Even at my worst, I am worthy, so I will grow.'
"Practice: Move towards spaces that value us, let ourselves belong to those communities that know they want us, know they need us, know we have worth, know we deserve more than transactional care."
Article: Additional Recommendations for Us Right Now From a Future
Corporate Social Responsibility
Trees improve a neighborhood's health, temperature, and resiliency. But they're not equally distributed. A Tazo Tea supported initiative wants to change that.

Photo via American Forests
"Neighborhoods that were redlined in the past—meaning that racist, government-backed maps marked them as 'high risk' for home loans because people of color lived in the area—often still struggle with poverty today. They also tend to be different from richer neighborhoods in another way: They have vastly fewer trees.
"'If you look at a map of most American cities, you'll find that tree canopy cover tracks along income lines,' says Sarah Anderson from the nonprofit American Forests. 'Wealthier communities have more trees, and lower-income communities have fewer trees. And this is the result of decades of discriminatory housing and planning purposes.'
"Among other programs, the nonprofit works on tree equity—bringing more trees to the areas that most need them in cities, with the benefits of helping clean the air, keeping neighborhoods cooler during heat waves, lowering air-conditioning bills, reducing flooding, and improving mental health. Now, the nonprofit is partnering with the company Tazo Tea to work on the problem, creating the 'Tazo Tree Corps' to plant and care for trees in targeted neighborhoods in Detroit; Minneapolis; the Bronx; the Bay Area; and Richmond, Virginia."
Article: This New Tree Corps Will Hire People to Plant Trees in Low-Income Neighborhoods
Related Article: How Decades of Racist Housing Policy Left Neighborhoods Sweltering
Racism, Social Messaging
A series of PSAs offers compact messages about antiracism. They're really entertaining, and really enlightening.

Video: See Color | The Crystal Gems Say Be Anti-Racist | Cartoon Network
"Cartoon Network has just released their third anti-racism PSA in a series of four developed by Emmy-nominated Steven Universe creator Rebecca Sugar, and Ian Jones-Quartey, creator of OK K.O.! Let's Be Heroes. The spots are all aimed at providing kids and families with productive ways to disrupt common narratives about racism.
"The series of anti-racism PSAs each feature a different Steven Universe character and discuss the importance of understanding how racism affects individuals, encouraging audiences to not be racist."
"This new PSA, See Color, featuring Steven Universe's Amethyst (voiced by Michaela Dietz), launched (last week) on Cartoon Network's YouTube channel and across the network's social media platforms. The short shares the message, 'It's important to SEE people in all their beautiful COLORS. When you see color and the unique experiences that come from it, you can recognize the role racism plays in our culture AND appreciate everyone and their diversity.'"
Article: Cartoon Network and 'Steven Universe' Fight Racism in 'See Color' PSA
Color
Dieter Rams was a brillant colorist, too.
What a brilliant idea. Chad Ashley has assembled the colors used by Dieter Rams in his legendary products for Braun into reproducible color palettes.
Article: Rams Palettes
Typography
Helvetica, everywhere
When Dann DeWitt and I ran Titanium together, we'd often say that we could use no typeface but Helvetica for a year and no one would notice, and that we'd still win awards.
It's a contemporary classic.
Here's a great article that explains why it is, its history, and its cultural context.

Brands that use Helvetica as a primary logo typeface.
Article: The Most Loved Typeface in the World
Media, Magazines
"The best way to think about magazines is as the analog Internet—they'd foster communities of people, just like on social networks."

The story of America can be told through the story of its periodicals. Photograph by Alfred Eisenstaedt / The LIFE Picture Collection / Getty
"Late last month, as President-elect Biden prepared to mount the dais at the Capitol to become President Biden, the Grolier Club, on East Sixtieth Street, opened its doors to a room-size history of the republic as told through its magazines. History was in the air that week, so the opening was timely. Everyone was looking to the future, and it made some sense to check for guidance in the past.
"'The best way to think about magazines is as the analog Internet—they'd foster communities of people, just like on social networks,' Steven Lomazow, a seventy-three-year-old New Jersey neurologist who created the exhibition from his personal collection of more than eighty-three thousand magazine issues, said the other day. He was wearing a shaggy charcoal fleece and a surgical mask that fluttered in and out beneath his glasses as he spoke. He'd become interested in magazines as a student, in the early seventies, when he'd prowl Chicago bookshops for medical books. 'One day, I walked into a store and there was the first issue of Life magazine and, next to it, the first issue, supposedly, of Look,' he remembered. 'It said, Volume 1, No. 2. I said, 'What happened to Volume 1, No. 1?' The guy goes, 'We don't know.' ' Lomazow found this irresistible. His hunt for the first Look became a hunt for other firsts, and before he knew it he had magazines reaching back to 1731 and forward to Dave Eggers's McSweeney's and Oprah's O. 'I'm the only crazy generalist now, the one who collects everything,' Lomazow said. 'It is an incredible way to learn about history.'"
Article: What Are Magazines Good For?
Communication, Writing
Given how central reading and writing comprehension is to our virtual lives, it's time to remind ourselves what good communication looks like.
"As I describe in my book, Digital Body Language, reading carefully is the new listening, and writing clearly is the new empathy. So before you send off that next email, pause and ask yourself these three questions: …"
Article: Slow Down and Write Better Emails
Oneliners
Why SoHo Struggles and Indie Shops in Brooklyn Are Doing Fine
Brands Are Returning to Brand Building, Says Google
How Tweed Became a Symbol of Scottish Culture
Playlist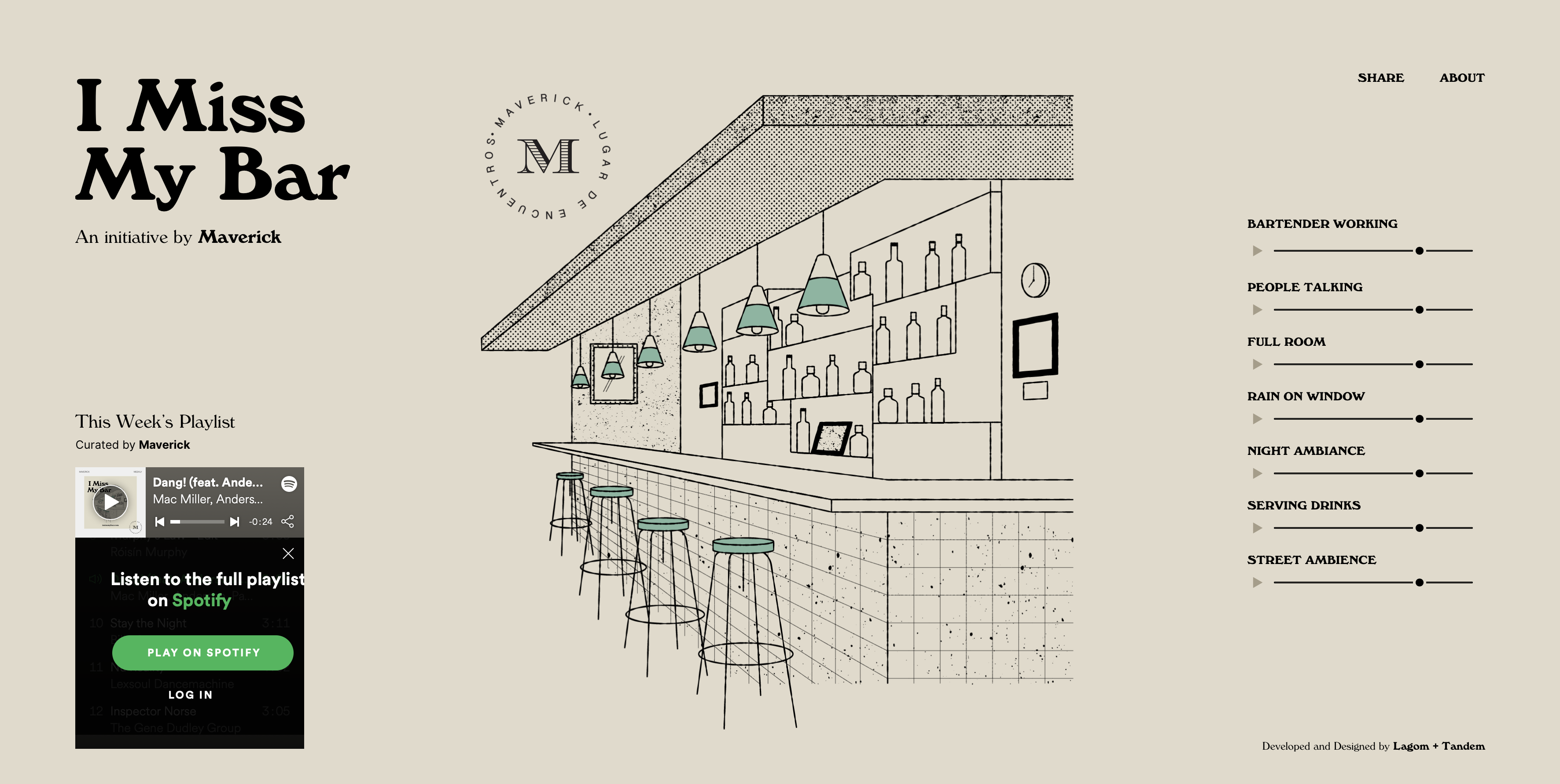 Last Saturday morning I was listing to a friend the things I miss during the pandemic. Two-thirds of the way down the list (under weekends with family and friends, dinner parties, parties, hanging out in the ski lodge rather than the parking lot, museums and working in co-working spaces) is chilling in cafes and bars. Within the hour, I stumbled upon this site. Thank you Sarah Holder, and Navigator, Bloomberg CityLab's biweekly Saturday newsletter. She writes:
"I Miss My Bar is a project of Maverick, a bar in Monterey, Mexico, that shut its doors temporarily when the pandemic began. They started serving to-go drinks, and wanted to give people something to listen to while they held happy hours for themselves, says René Cárdenas, one of the bar's partners.
"Listeners can adjust the levels on a menu of sounds, many of them watering hole noises that are universal enough to be familiar to a pub-goer in London or cocktail spot in Tokyo — 'bartender working,' 'people talking,' and 'serving drinks.' Others are sourced directly from the streets of Monterey, like the shout of this one guy who always sells bread on the corner.
"'A lot of people are saying that they hate drinking alone, and this helps them feel like they're not drinking alone,' Cárdenas said."
I tried the sound effects, and they're fun, but I can't imagine tuning in again for just the sounds of a bar. But the feature that really stands out for me is "This Week's Playlist". One of the reasons that I love social clubs is that I get to hear someone else's curation of what's new. This playlist is fantastic. I had not heard this new cut by D'Angelo, and I didn't know that Mac Miller and Anderson.Pak were working together. Lovely. Funky. Fresh.
Playlist: Maverick Weekly
Image of the Week
The Image of the Week is a detail of nerve cells in a dog's olfactory bulb. It's from Camillo Golgi's Sulla fina anatomia degli organi centrali del sistema nervoso (1885) — Source.
The illustration is from an enlightening article that ties the work of Golgi (1843–1926) to that of Santiago Ramón y Cajal (1852–1934).
"Born the son of a doctor in a small town in Lombardy, Italy, Golgi studied at the University of Pavia, where he eventually specialized in the etiology of mental disorders. Eager to do research but in need of money, he took a job at a hospital, where, in a makeshift laboratory set up in the kitchen, he developed what he called the 'black reaction'. Now known as the Golgi method, it involves immersing tissue specimens in silver nitrate, creating a black deposit on the soma, axon, and dendrites which, once placed under the microscope, become clearly visible against a yellow background. This method made it possible not only to trace the connections between neurons but also to visualize the complex networking structure of the brain and spinal cord.
"Without the 'black reaction', Santiago Ramón y Cajal (1852–1934) might never have made the discoveries that still inform our understanding of the central nervous system today. Another son of a doctor born in a small town (Petilla de Aragon, in Zaragoza, Spain), Ramón y Cajal was a rebellious child who wanted to be an artist. This was not at all something his father encouraged, and there was a great deal of antipathy between them until, one day, the stern father invited the willful son to help him exhume human remains from local cemeteries. Sketching bones gave Ramón y Cajal a passion for anatomy that propelled him through his university years and medical school in Zaragoza. After a brief, unhappy, malaria-ridden stint as a medical officer for the Spanish army in Cuba, he returned to Spain, where he became a professor — one extremely passionate about the possibilities of modern microscopy."

Santiago Ramon y Cajal, image of nerve cells, ca. 1900 — Source
For their work in seeing and studying the elements of the nervous system in a systematic way, the two scientists were jointly awarded the Nobel Prize in Physiology or Medicine in 1906. But on the stage in Stockholm, Golgi proved to be a bit parochial. The article is a good read about how we learn, and how we share what we learn.
Article: Early Illustrations of the Nervous System by Camillo Golgi and Santiago Ramón y Cajal
*The quote of the week was plucked from Danielle Doby's book, I am her tribe, by Tina Roth Eisenberg, who calls herself "a Swiss designer gone NYC", and whose newsletter, SwissMiss, I welcome into my inbox every day.
What's Clarity First?
If you're new to Clarity First, it's the weekly newsletter by me, Mitch Anthony. I help people use their brand – their purpose, values, and stories – as a pedagogy and toolbox for transformation. Learn more.
If you get value from Clarity First, please pass it on.