"We spend January 1st walking through our lives, room by room, drawing up a list of work to be done, cracks to be patched. Maybe this year, to balance the list, we ought to walk through the rooms of our lives…not looking for flaws, but for potential." -Ellen Goodman
Clarity First
A notebook about how we work, and learn, and love and live.
This week I am relaxing and taking a vacation with my family. Two of our three kids are visiting with their partners. We're cooking and eating and bowling and reading and x-c skiing and hiking and telling lots of stories. I hope that you, too, are finding the joy and peace of doing nothing with people you love.
Happy Friday. Happy new year.
Futures Thinking
A new book makes the case for optimism.
"'Let's not teach our children that apocalyptic thinking is right thinking,' says Laurence Siegel. Apocalypticism 'has always been wrong as a forecast, and it will continue to be wrong.'
"Siegel is a business consultant and the director of research at the CFA Institute Research Foundation. In Fewer, Richer, Greener, he argues convincingly that humanity has spent two centuries rising from our natural state of abject poverty, and that most of the credit for that goes market institutions and democracy. Parsing current trends, Siegel foresees world population peaking and then stabilizing by the end of this century. (Hence the 'fewer.') He argues that economic growth will bring humanity much greater wealth and more adept technologies. (Hence the 'richer.') And thanks to increased urbanization and steadily improving material efficiency, he thinks our species will tred more lightly on many natural ecosystems. (Hence the 'greener.')"
Article: Apocalyptic Thinking is Wrong
Working Together
If we want to stop feeling separate from each other the athletes of Special Olympics can help us to understand the sources of division, and to find solutions to it.

Eric Robert Stag, 19, of Anne Arundel County, Md., throws his arms in the air after winning a first-place ribbon in the 100 meter run in the Maryland Special Olympics, held at the U.S. Naval Academy in Annapolis on April 28. (Sarah L. Voisin/The Washington Post)
"Today, most Americans have concluded that there is a group that is just too 'other' to deserve respect or inclusion. For many, it's Trump voters. For others, it's liberal elites. For others, it's certain people of faith or people of color. The pattern is familiar. Some person or group has a quality, characteristic or belief that provokes a judgment so extreme it cannot be tolerated. 'They' don't deserve our respect or welcome. Therefore, they are hopeless, of no value. We must defeat, fix or crush them.
"Special Olympics can't solve the political or cultural challenges of our time, but it can offer some lessons worth learning."
Article: To Heal Our Divisions, Listen to People With Intellectual Disabilities
Color, Pop Culture
Could it be pure coincidence or did the Simpsons really predict the Pantone color of the year ten years in or row?
"Having just celebrated its 30th anniversary on December 17th, The Simpsons is the longest running animated series ever. One of the things that may have kept the show going is its uncanny ability to predict major global events. From Donald Trump's presidency to the FIFA corruption scandal in 2015, there's many things that The Simpsons has eerily predicted. But whether intentional or not, it seems they may have also had something to do with the last 10 years of Pantone Color of the Year winners.
"While collaborating with Aspire Doors, head designer at Boom Online, Pete Bingham discovered that the Simpson's living room plays host to every single one of the Pantone color of the year winners from 2010 to 2019. As a result of this discovery, Pete set about recreating this well-loved and iconic setting in photoshop using the winning colors. since this discovery, the Pantone Color of the Year for 2020 has also been released – 'classic blue'. And who should have the most noteworthy blue hair on tv?.. you've guessed it, Marge Simpson."
Article: Did the Simpsons Predict Every Pantone Color of the Year From 2010 to 2020?
Advertising, Social Messaging
Santa challenges his own change model.

"Santa Claus sits on a snowy rooftop and ponders traditional notions of kids who are 'naughty' in Wieden + Kennedy New York's stirring PSA for the National Alliance on Mental Illness (NAMI).
"'I think I did this all wrong,' Kringle begins in the two-and-half-minute spot. 'It started with good intentions. A way to motivate behavior, to codify gift giving, streamline deliveries. But—naughty or nice? As if some kids don't have enough to worry about, only to have me judge them without context, without perspective.'
"As the camera slowly moves in, St. Nick continues to mull the problem in a quietly intense soliloquy. He touches on issues facing young people today—'the news, the lockdown drills, the internet'—and concludes that a label like 'naughty' is just too simplistic.
"'Naughty or nice? Isn't it just as possible that they're nervous or nice? Uncomfortable-in-their-own-skin or nice? I'm-angry-and-I-don't-know-why or nice? My-impulses-are-beyond-my-control or nice? Hurting or nice? … The world is bearing down on them, and we expect these struggling kids to do—what? Speak when spoken to?'"
Article: Santa Rethinks 'Naughty or Nice' in W+K's Remarkable Mental Health Ad
Personal Development, Health
Something in the air
It turns out that getting outside really is good for your health, or at least for your gut microbiome. A new study provides  "significant step forward in showing that airborne exposure to natural biodiversity can influence the gut microbiome, and therefore, our health," says lead author of the study Craig Liddicoat, Ph.D..
Article: This Is How Getting Outside Heals Your Gut
Design, Work Spaces
A clever way to extend desk surface.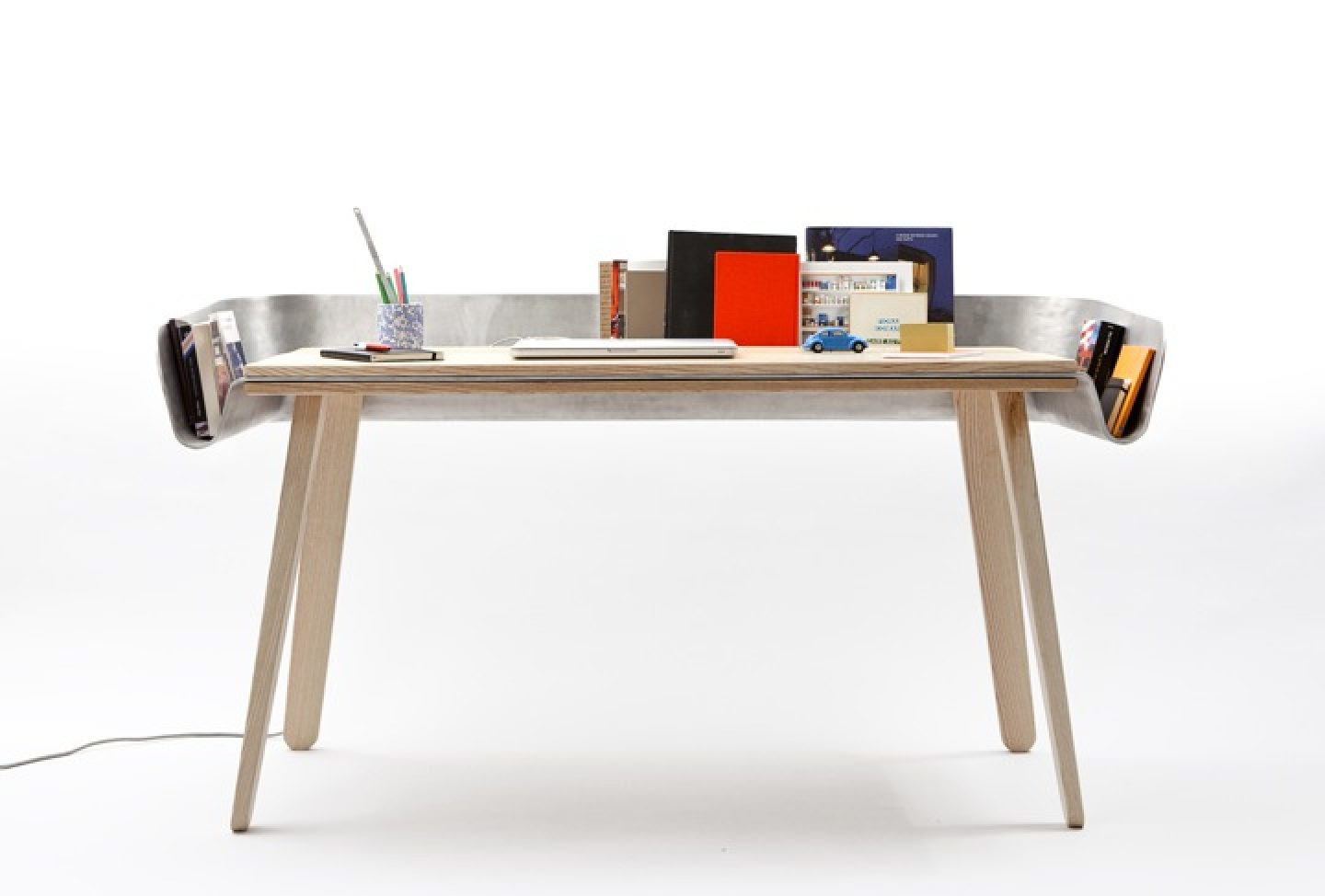 "Homework is a work table which has been set to be even more functional. An aluminum cloth is placed on a wooden table to create a refined extension, a toolbox to store documents, objects, photos…that you need or simply desire to work. The tilted surface enables you to lay down open books and continue reading."
Web page: Tomas Kral Product Design Studio: Homework
Passage
R.I.P. Ram Dass

Ram Dass in 2017, via RamDass.org
The man who introduced me and countless others to psychedelics and eastern spirituality died this week.
"He changed the face of spirituality in the West, offering insight into the wisdom of the East and guidance for the next generation. He was a light in this world and will be greatly missed," wrote Lama Tsultrium Allione.
Article: Ram Dass, Spiritual Pioneer, Dies at 88
Playlist
Every weekday at 4 I listen to The World, the one hour summary of international news broadcast by WBUR, the BBC and PRI. I especially look forward to the last article at the end of every show, always a highlight of a musician or musical group. Host Marco Werman says about the musical feature: "Our listeners want to know about the world, but it's too much information to process at once. So music is a great way to just slow things down, to allow people to digest what they've heard and to appreciate that there is this thing that connects us around the planet."
This week he and studio director April Peavey picked their favorite albums from 2019 and turned the selects into a Spotify playlist, The World's Favorite Music 2019. There are 10 artists featured that you want to know about. I've selected one, Jonny Benavidez. Born in El Paso, TX, and growing up in San Diego, CA, Jonny sings Doo Wop, R&B and Soul music in a style that makes it easy imagine that it was recorded in 1962. His sweet falsetto voice is a soothing salve in an unsettling world.
YouTube Video: Tell Me That You Love Me – Jonny Benavidez & Cold Diamond & Mink 
Image of the week
"Bethlehem, the biblical birthplace of Jesus, is a city in the Occupied Palestinian Territories besieged behind Israel's massive, 25-feet-high wall, military watchtowers, and checkpoints.
"To highlight this reality, British street artist Banksy created a "modified nativity set" titled the "Scar of Bethlehem."
"The work was unveiled this past weekend at the artist's Walled Off Hotel, which overlooks Israel's separation wall (dubbed the "Apartheid Wall" by Palestinians) around Bethlehem.
"The new artwork reinterprets the biblical manger scene as occurring against the backdrop of the modern concrete barrier, which appears punctured with a blast that created the shape of a star."
Article: Banksy Unveils a Political Interpretation of the Nativity Scene in Bethlehem
What's Clarity First?
If you're new to Clarity First, it's the weekly newsletter by me, Mitch Anthony. I help people use their brand – their purpose, values, and stories – as a pedagogy and toolbox for transformation. Learn more.
If you get value from Clarity First, please pass it on.
Not a subscriber? Sign up here.
You can also read Clarity-First on the web.