"Perhaps it requires of you precisely this existential anxiety in order to begin. Precisely these days of transition are perhaps the period when everything in you is working.."

– Rainer Maria Rilke
Clarity First
A notebook about how we work, and learn, and love and live.
It is Christmas, the day that followers of Jesus Christ celebrate his birth. In the name of peace and harmony, today I'm going to set aside arguments about when he was actually born, and stories of atrocities committed in his name. Today I'm going to embrace how Rev. Jim Wallis desribes Christmas: "The coming of Jesus is intended to turn things upside down. The power of the Bethlehem narrative includes the inn having no room for Mary and Joseph, and the lowly shepherds being the first witnesses of the new baby as hope for the world born in a manger with his homeless parents. This is not the conquering messiah many were hoping for, but one from the bottom of society in a time of political unrest and massive inequality — sort of like now."
And because many of us are taking time to step away from work and responsibilities to relax and connect with friends and family, today's letter is less about how we work and learn and more about how we love and live.
Happy Friday. Merry Christmas.
Celebration, Ritual, Connectedness, Alignment
It is difficult to imagine a more important time than right now to refocus our spiritual energy toward the vast clockwork of the natural world.
Shunli Zhao / Moment / Getty Images
"Celebration of the solstice is as old as the stones; Stonehenge and Newgrange, the Bronze Age monuments in England and Ireland, are both aligned with the winter solstice sunrise. Stone arrangements left by the Anasazi people in New Mexico around 200 BC are likewise attuned to the movement of the sun.
"Celebration of the longest night of the year is everywhere. The Hopi descendants of the Anasazi celebrate Soyal at the setting of the solstice sun with a ceremony of fires and dancing that lasts all night. In Iran, the winter solstice is celebrated as Shab-e Yalda, which means "Night of Birth," in which families and friends gather to read poems and feast. It is called Dong Zhi in China and Inti Raymi in Peru, and these celebrations are striking in their similarities.
"Wiccans and other practitioners of ancient witchcraft (a word they proudly own) celebrate the winter solstice as an affirmation of life itself as being sacred and interconnected. People celebrate solstice individually and collectively by dancing, feeding animals to help them through the winter, or by communing with nature in an act of deliberate release, spending negative energy into the darkness of the longest night on the promise of the sunrise to come.
"It is difficult to imagine a more important time than right now to refocus our spiritual energy toward the vast clockwork of the natural world. The bill for generations of pollution and greed has finally come due, in the guise of rising seas, murderous storms, permanent droughts and towering fires, and this is merely the beginning."
Article: Before There Was Christmas, There Was the Solstice, and Hope
Context
Debates about celebrating Christmas go back to the 17th century
"When winter cold settles in across the U.S., the alleged "War on Christmas" heats up.
"In recent years, department store greeters and Starbucks cups have sparked furor by wishing customers "happy holidays." This year, with state officials warning of holiday gatherings becoming superspreader events in the midst of a pandemic, opponents of some public health measures to limit the spread of the pandemic are already casting them as attacks on the Christian holiday.
"But debates about celebrating Christmas go back to the 17th century. The Puritans, it turns out, were not too keen on the holiday. They first discouraged Yuletide festivities and later outright banned them.
"At first glance, banning Christmas celebrations might seem like a natural extension of a stereotype of the Puritans as joyless and humorless that persists to this day.
"But as a scholar who has written about the Puritans, I see their hostility toward holiday gaiety as less about their alleged asceticism and more about their desire to impose their will on the people of New England – Natives and immigrants alike.
Article: Why the Puritans Cracked Down on Celebrating Christmas
Poetry
First Snow, by Mary Oliver
The snow
began here
this morning and all day
continued, its white
rhetoric everywhere
calling us back to why, how,
whence such beauty and what
the meaning; such
an oracular fever! flowing
past windows, an energy it seemed
would never ebb, never settle
less than lovely! and only now,
deep into night,
it has finally ended.
The silence
is immense,
and the heavens still hold
a million candles, nowhere
the familiar things:
stars, the moon,
the darkness we expect
and nightly turn from. Trees
glitter like castles
of ribbons, the broad fields
smolder with light, a passing
creekbed lies
heaped with shining hills;
and though the questions
that have assailed us all day
remain — not a single
answer has been found —
walking out now
into the silence and the light
under the trees,
and through the fields,
feels like one.
Advertising, Social Messaging, Self-Promotion
A F*ck You for a Cause
Public Inc. is a Toronto-based agency that puts social purpose at the core of their clients' messaging and strategy. This year they used their holiday gift-giving budget to make a donation to the Mental Health Coalition and the Black Health Alliance. And they made this hilarious spot in which everyday people say F*ck You, 2020. "Because the best way to say
you to 2020 is by making sure that people have the mental health support they need in 2021. Join us. Let's end this year on a F*%&ing high note." Definitely NSFW, but so worth sharing. As of this morning, just eight days after launch, the video has been watched 652,226 times.
Video: Public Work | A Holiday Campaign (Uncensored)
Funny
A horoscope for pandemic times
Illustration by Luci Gutiérre
"Capricorn: You started off the year energized, but unforeseen circumstances have left you feeling listless. For a dynamic sign like the Goat, you're tired all the time, and you've been finding it difficult to concentrate. This month, prepare to continue to not get any work done. Also, that lingering career anxiety you've been feeling isn't just in your head after all! Don't worry. It's highly likely that your entire profession is screwed."
Article: Your Monthly Horoscope
Oneliners
99 Good News Stories From 2020 You Probably Didn't Hear About
You Deserve to Do Absolutely Nothing
2020 Was the Year Clean Energy Started to Beat Big Oil
What the Pandemic Christmas of 1918 Looked Like
Image of the Week
"VegaStarC Liard in Champagne-Ardenne, France, captured this photo of Jupiter and Saturn on December 18, 2020, as they approach their great conjunction on December 21, and wrote: 'Catch us!' says the planet Jupiter and its friend Saturn :-).'"
Article: Your Photos of Historic Solstice Jupiter-Saturn Conjunction
Playlist
In honor of the holiday season, I am using today's Playlist to hold up more than just one artist, album or performance.
This is a great addition to your collection of Christmas songs. Meaghan Maples and guitarist James Bishop completely reinvent Elvis' Blue Christmas. One guitar, one voice, one groove.
Song: Blue Christmas
Three-time Oscar®-winning filmmaker Peter Jackson ("The Lord of the Rings" trilogy, "They Shall Not Grow Old") is currently combing through 60 hours of unseen footage and 150 hours of unheard audio of the Beatles shot and recorded in January of 1969. He's cutting it into a movie to be called "The Beatles: Get Back". But the project has been delayed by the pandemic. So, as a holiday treat he and his crew put together this five-minute "sneak peak". Says Jackson: "We hope it will bring a smile to everyone's faces and some much-needed joy at this difficult time."
So much has been written about the bad vibes and mistrust that shrouded the Beatles' final days. This footage complelety belies that story of gloom. They are relaxed, chummy, devastatingly accomplished and clearly happy to be in the greatest rock band of all time.
Video: The Beatles: Get Back – A Sneak Peek from Peter Jackson
Article: The Beatles: Get Back – A Sneak Peek from Peter Jackson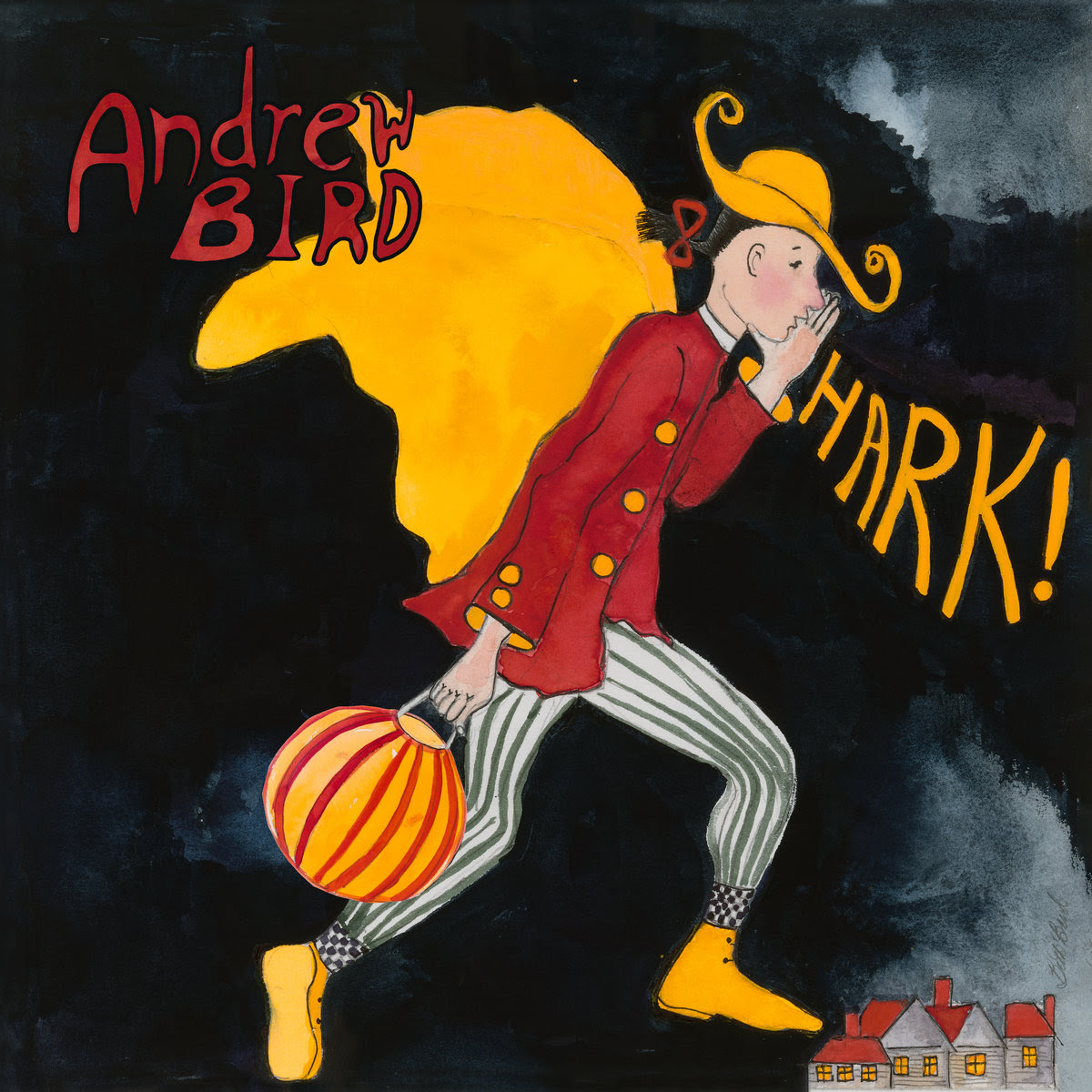 "If anyone is going to make a Christmas album that ditches the cloying, cash-grabby feeling that comes with many yuletide records, it's Andrew Bird. He's a musical genius that routinely makes beautiful, often tongue-in-cheek self-aware songs full of grand instrumentation. When Hark! – the six-track EP, all of which is contained within Hark! the LP – was released in 2019, it felt like a breath of fresh air, its songs festive, but never cloying. Those hoping for more of the same will be delighted by the arrival of this record just in time for autumn to really take hold and the holiday season to begin."
Video: Andrew Bird – "Christmas in April" – Live
"Among the new songs are a pair of covers, 'Andalucia' by John Cale and the late John Prine's 'Souvenirs' – the former opens the collection, setting the 'festive, but bearable' tone spectacularly, though admittedly the Paris 1919 cut only has a tenuous Christmas connection that starts and stops at the inclusion of the word 'Christmas' in the song's last verse."
Video: Andrew Bird – "Andalucia" (Live from Performance Now!)
"'Souvenirs' is more overtly Christmas-themed, but almost in an attempt to make up for it, is the one song here that truly 'rocks,' making it a fitting tribute to the legendary country singer who passed away earlier this year. He also drops in a few originals, like 'Night's Falling,' 'Christmas in April' and 'Alabaster,' which can easily pass as Christmas classics if you don't pay too much attention – a testament to how effortless Bird is at assuming a certain songwriting style."

Video: Andrew Bird – "Souvenirs" (John Prine Cover)
Review: Andrew Bird: Hark!
What's Clarity First?
If you're new to Clarity First, it's the weekly newsletter by me, Mitch Anthony. I help people use their brand – their purpose, values, and stories – as a pedagogy and toolbox for transformation. Learn more.
If you get value from Clarity First, please pass it on.