"There is too much bad news to justify complacency. There is too much good news to justify despair." – Donella Meadows
Clarity First
A notebook about how we work, and learn, and love and live.
Yes, the bad news is truly frightening. And it's easy to find.
But there is a lot of good news, too. In every corner of the globe there are millions of people working to live up to the promise of our collective intelligence, of our consciousness.
As Stewart Brand said in the very first Whole Earth Catalog, "We are as gods. We might as well get good at it".
Here's some of what I sipped from the firehose this week. Happy Friday.
Transformation, Design
How to make this decade the most creative and generative in human history.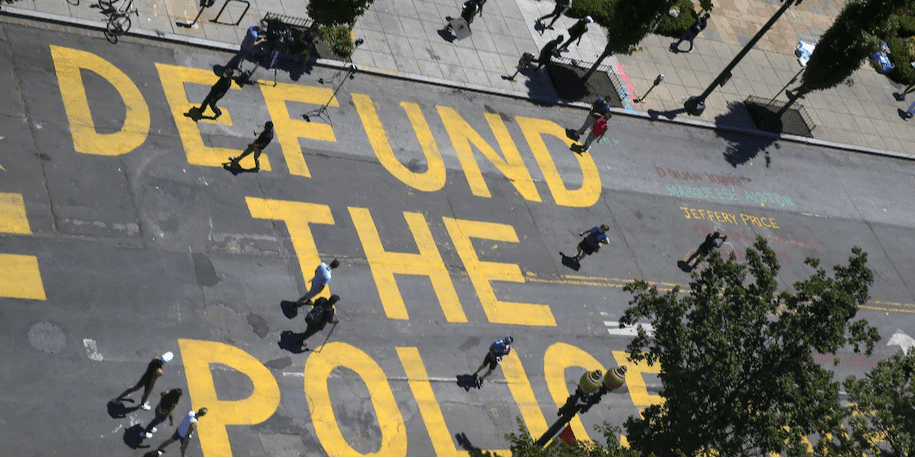 Writing on the media platform Emerge, Jordan Hall, makes a powerful observation. At least at the narrative level we have reached the point that 'defunding the police' is a real proposition. But rather than describe ways to redirect monies dedicated to policing, he goes deeper and suggests that policing is just one example of an institution that has grown into obsolescence.
"It is not stretching the truth to say that effectively all of our social institutions are a bad combination of corrupt and obsolete. Our education system. Our healthcare system. Our food production systems. Our banking and finance systems. Our journalism and science systems. Our political systems.
"They are all beyond the pale and they all should be defunded and redesigned."
And, being a systems thinker, he starts by highlighting the power of local experimentation first. This is a very hopeful read.
Article: Defund (And Redesign) Everything
Persuasion
To really change someone's mind you need to understand the source of their resistance.
"It's not easy to have detractors, and it's even harder to change their minds. The key is to understand the source of their resistance and use a targeted strategy that best resonates with your particular detractor. You'll have a much better chance of getting a 'yes.'"
Article: How To (Actually) Change Someone's Mind
UX, Design
To design for change, first, we must understand more about human behaviors.
"How can we design for human change? How can we influence people to make certain decisions yet in an ethical way? And how can we keep customers engaged and retained with products and services?
"Behavioral Design is here to guide teams, such as Customer Experience, Data Science, and Product, in understanding how people think, feel and react. By practising the many ideas and techniques associated with the ever-emerging field, organisations can reach out to their customers' intrinsic needs."
"But remember:
Designing for behaviors is about persuasion, not coercion
The ideas and techniques in Behavioral Design should not be practised like Dark Elixir! So that means no dark patterns nor tactics that go against the user's best interest
Customer needs and satisfaction should be the focal point of increasing engagement and retention
The more you can learn about behaviors, then the more you can meet your target audiences' intrinsic needs"
Article: The Behavioral Design Toolbox: 20 Ideas and Techniques
UX, Deception
Through deceptive designs known as "dark patterns," online retailers try to nudge you toward purchases you wouldn't otherwise make.
"Dark patterns are digital design elements that manipulate users into making decisions they otherwise wouldn't, often to a corporation's benefit. You might hand over your email address for marketing messages if the affirmative widget is larger and brighter than the option to decline, for instance. The term was coined a decade ago by user experience designer Harry Brignull, who created a typology of dark patterns, many of which prey upon humanity's psychological weaknesses. More recently, the issue has been taken up by Congress, which considered a bill last year that would regulate how dark patterns are used. They're found all over the web, but some of the most egregious examples are on shopping sites, where profits are directly at stake."
Article: The Subtle Tricks Shopping Sites Use to Make You Spend More
Segmentation, Audience Definition
All too often brands are obsessed with what makes people different rather than looking for traits and behaviors they share.
"The meat substitute Quorn originally targeted vegetarians, which represented 7% of UK households. Eventually, it changed its strategy to instead appeal to healthy consumers, which represented 70% of UK households. It remains arguably the most growth-enabling move the brand has ever made."
Article: Target Customers' Big Similarities, Not Their Little Differences
How We Work
Eager for an alternative to Zoom, executives are getting together in video games, to bond, brainstorm or rampage.

"It's my golf," said Lewis Smithingham, an advertising executive in Brooklyn, of virtual outings. They are a chance to form memories with people he has not met, a crucial part of developing business relationships. Credit…Benjamin Norman for The New York Times
Article: 'Hey, You Free on Friday for a Meeting and a Bank Heist?'
How We Work
Step one is to clearly clearly define the reasons for employees to return to the office
"The pandemic has shown that the real prize in remote work is not reducing real estate costs — it's fostering a stronger sense of resiliency. In the future, remote work will also allow greater access to a diverse pool of talent, regardless of where it is located. Our surveys show a small percentage of employees prefer to work remotely all the time, so it's important to assess what flexibility means for them. Meanwhile, other employees will want to socialize with team members and feel that they are part of the organization. How many people will need a place to collaborate with colleagues in person, and how often?
"The answers to these questions will determine both the success of a business and the extent of the physical remodeling that companies will need to do. As leaders think about the role of their corporate offices and how and where their employees work once coronavirus concerns recede — whether it is this year or further in the future — they must clearly define the reasons for employees to return to the office."
Article: Creating the Office of the Future
Advertising, Out of Home
"Made you look."
Right, I wish that more states followed Vermont's lead and banned outdoor advertising. But, if billboards and posters are there, we might as well make them as smart and entertaining as possible. One of the reasons that I like the category of Out of Home advertising, is that people tend to see the same ads over and over again, and as my clients hear me say over and over again, the sharpest tools you have in your communications toolbox are clarity of point of view, and repetition.
Writing in Better Marketing, Victoria Kurichenko, has collected 10 examples of outdoor advertising that grabs and holds your attention.
Article: 10 Billboards That Would Make You Pull Over on the Highway
Oneliners
How Taiwan's Unlikely Digital Minister Hacked the Pandemic
As Advertising Plummets In Q2, NYT's Total Digital Revenue Exceeds Print
With So Many Employees Working Remotely, Leaders Must Take Extra Care To Ensure Their Communications Leave No Room For Misinterpretation.
A Dutch Public Broadcaster Got Rid Of Targeted Digital Ads—And Its Revenues Went Way Up.
Playlist
This week NPR's All Songs Considered announced the winner of the 2020 Tiny Desk Contest, singer Linda Diaz and her band singing her song Green Tea Ice Cream.
Judges considered more than 6,000 unsigned artists from every state in the country. One of them, Tiny Desk alumna Gina Chavez, eloquently summarized the sound of this beautiful song when she said, "If harmonies are medicine, then Linda Diaz is a salve for the soul".
Friends, this soothing salve for the soul feels so good about now.
Video: Linda Diaz "Green Tea Ice Cream" NPR Tiny Desk Contest Submission 2020
Article: Announcing the Winner of the 2020 Tiny Desk Concert Contest
Morning Edition Radio Article: August 4, 2020
Image of the week
Her website says that "Janet Echelman sculpts at the scale of buildings and city blocks. Echelman's work defies categorization, as it intersects Sculpture, Architecture, Urban Design, Material Science, Structural & Aeronautical Engineering, and Computer Science. Echelman's art transforms with wind and light, and shifts from being 'an object you look at, into an experience you can get lost in.'"
The image of the week is a photograph of her newest permanent work, Bending Arc. The artist titled the aerial sculpture in reference to MLK's words, "The arc of the moral universe is long, but it bends toward justice".
The work, which is composed of 1,662,528 knots and 180 miles of twine, spans 424 feet and measures 72 feet at its tallest point.
It is suspended above St. Petersburg, FL's new 26-acre waterfront Pier District, a place of significance to the US Civil Rights Movement, as it was the place where local citizens first began peacefully challenging racial barriers, protests that led to the 1957 US Supreme Court case ruling which upheld the rights of all citizens to enjoy use of the municipal beaches and swimming pools without discrimination.
Artist's Website: Janet Echelman
What's Clarity First?
If you're new to Clarity First, it's the weekly newsletter by me, Mitch Anthony. I help people use their brand – their purpose, values, and stories – as a pedagogy and toolbox for transformation. Learn more.
If you get value from Clarity First, please pass it on.