"The best way to predict the future is to create it."

– Peter Drucker
Love & Work
A notebook about how we work, and learn, and love and live.
I've described the act of writing this letter "my knitting". It's something I do in the background to settle my mind. Here are some ideas I tied together this week.
Happy Friday.
Personal Development
"Cleverness is overrated, and heart is underrated."
This week my friend and colleague, Jennifer Marrapese, forwarded me this article. In it comedian, Mike Birbiglia, shares six insights that he's learned creating a career without a mold. His insights are relevant for anyone who wants to make a difference.
"Forget the gatekeepers. As far as I'm concerned, what you create in a 30-seat, hole-in-the-wall improv theater in Phoenix can be far more meaningful than a mediocre sitcom being half-watched by seven million people. America doesn't need more stuff. We need more great stuff. You could make that.
"6. CLEVERNESS IS OVERRATED, AND HEART IS UNDERRATED
"Plus, there are fewer people competing for heart, so you have a better chance of getting noticed. Sometimes people say, 'One thing you have to offer in your work is yourself.' I disagree. I think it's the only thing.'"
Article: Mike Birbiglia's 6 Tips for Making It Small in Hollywood. Or Anywhere.
Learning, Feminism
"The giants on whose shoulders we stand."
Illustration by Carol Rossetti
"Every year, too many women's rights activists are murdered or disappeared under suspicious circumstances. Some activists live long and full lives, and die of natural causes. Others, exhausted by often thankless work, die of preventable illnesses.
"For the last five years, the organisation I work for, the Association for Women's Rights in Development, (AWID) has honoured the memories of activists who have fought for women, girls, and communities that have been denied their human rights for far too long.
"Documenting the lives of departed feminists is important work. They are the giants on whose shoulders we stand. Here are five inspirational feminist activists, from South Africa to the Philippines, that you should know, and honour in this period and beyond."
Article: Five Inspirational Feminists You Should Know and Honour Today
Generations
New survey reveals a dramatic distance between the generations in terms of how the young identify with the world around them, their outlook, and in some areas their values.
Some of the survey's key findings:
Digital divides. "Young people mostly inhabit a digital world. Older generations less so."
Mental well-being. "Compared to older generations, young people are more likely to say they feel the stresses and psychological burdens of modern life," especially in high income countries.
World views. "Young people are more optimistic about the future of the world than their older counterparts."
Social progress and equity. "Generations align on matters of equity," but the young, women, and those in high-income countries are more supportive of LGBTQ+ rights.
"Our results show that clichés about young people being entitled, demanding, or naïve are not backed up by data," said the UNICEF-Gallup survey in conclusion. "Even against the longest odds and some of the toughest problems in a century or more – the climate crisis and the ongoing pandemic – children and young people are not giving up. They are aware of the world's problems, they are cognizant of the misinformation that takes up so much virtual space, and many are wrestling with anxiety or depressed moods. And yet, they are looking to a better future."
Article: How Do Young People See the World Compared to Older Generations?
Happiness
"Ultimately, a high level of happiness requires social solidarity."
"In 2022, the 10 happiest countries were: Finland (#1), Denmark (#2), Iceland (#3), Switzerland (#4), Netherlands (#5), Luxembourg (#6), Sweden (#7), Norway (#8), Israel (#9), and New Zealand (#10)."
"It is deceptively easy to conclude that the explanation for this high level of happiness lies in the fact that these 10 are all fairly comfortable, economically advanced nations. Even so, there is no significant correlation between a nation's rank in happiness and its per capita income. Indeed, seven of the nations (Finland, Denmark, Iceland, Netherlands, Sweden, Israel, and New Zealand) did not place at all among the top 12 nations in per capita income during 2021. Finland, ranking #1 for happiness for the fifth year in a row, ranked #25 in per capita income. New Zealand, ranking #10 for happiness, ranked #31 for per capita income. Conversely, Singapore, which ranked #3 in per capita income, ranked #27 for happiness, while United Arab Emirates, which ranked #6 in per capita income, ranked #24 for happiness. Factors other than top incomes were clearly at work in producing the happiest nations." – Lawrence S. Wittner
Article: Power Once Again Fails to Produce Happiness
Related Article: High Energy Use Doesn't Lead to Happier People in Rich Countries
Communication, Media
"The means of communication, the media through which radical thinkers and movement builders interact, can be as important as the ideas being developed and shared."
"Gal Beckerman, in his new book, The Quiet Before: On the Unexpected Origins of Radical Ideas, would like those of us who care about making social and political change to take a break from our scrolling and posting and consider what our social media are doing to us, what we may be losing. But rather than write yet another cyber-pessimist jeremiad, Beckerman gives us a series of richly detailed historical narratives, deeply researched and reported, ranging from France during the 17th-century Scientific Revolution to the working-class Chartist movement of 1830s Britain, from the anticolonial stirrings in Accra in the 1930s to the Soviet samizdat dissidents of the 1960s, and from the riot grrrl zines of the early 1990s on up to the Arab Spring, the alt-right, and the Black Lives Matter uprisings of recent years. In each case, it becomes clear that the means of communication, the media through which radical thinkers and movement builders interact, can be as important as the ideas being developed and shared.
"A book like this isn't meant so much to inform our present fights for survival, democratic and social and planetary, as to help us step back and think about where the next radical ideas will come from, the ones we'll need if we're going to get through a catastrophic century. The question is whether — if we fail to get our heads out of our corporate-serving, profit-fueling feeds — these ideas will come at all." – Wen Stephenson
Author Interview: "We're Not Really Listening to One Another": A Conversation with Gal Beckerman
Communication
Chang Hsu teaches Calculus online. He has found a totally unexpected sales strategy: post on Pornhub.
It helps to understand your customer.
Video: Math Teacher is One of Pornhub's Biggest Stars.
Personal Productivity
The truth about time management
While I assiduously avoid articles that promise to make me more productive or successful, this one struck a chord.
Article: 10 Visuals That Will Change How You See Success and Productivity
One-liners
Article: The Brooklyn Public Library is giving eCards to teens nationwide to challenge book bans.
Article: A psychedelic surprise may be thriving in your local garden.
Article: Public art decreases traffic accidents by 17%, report finds
Playlist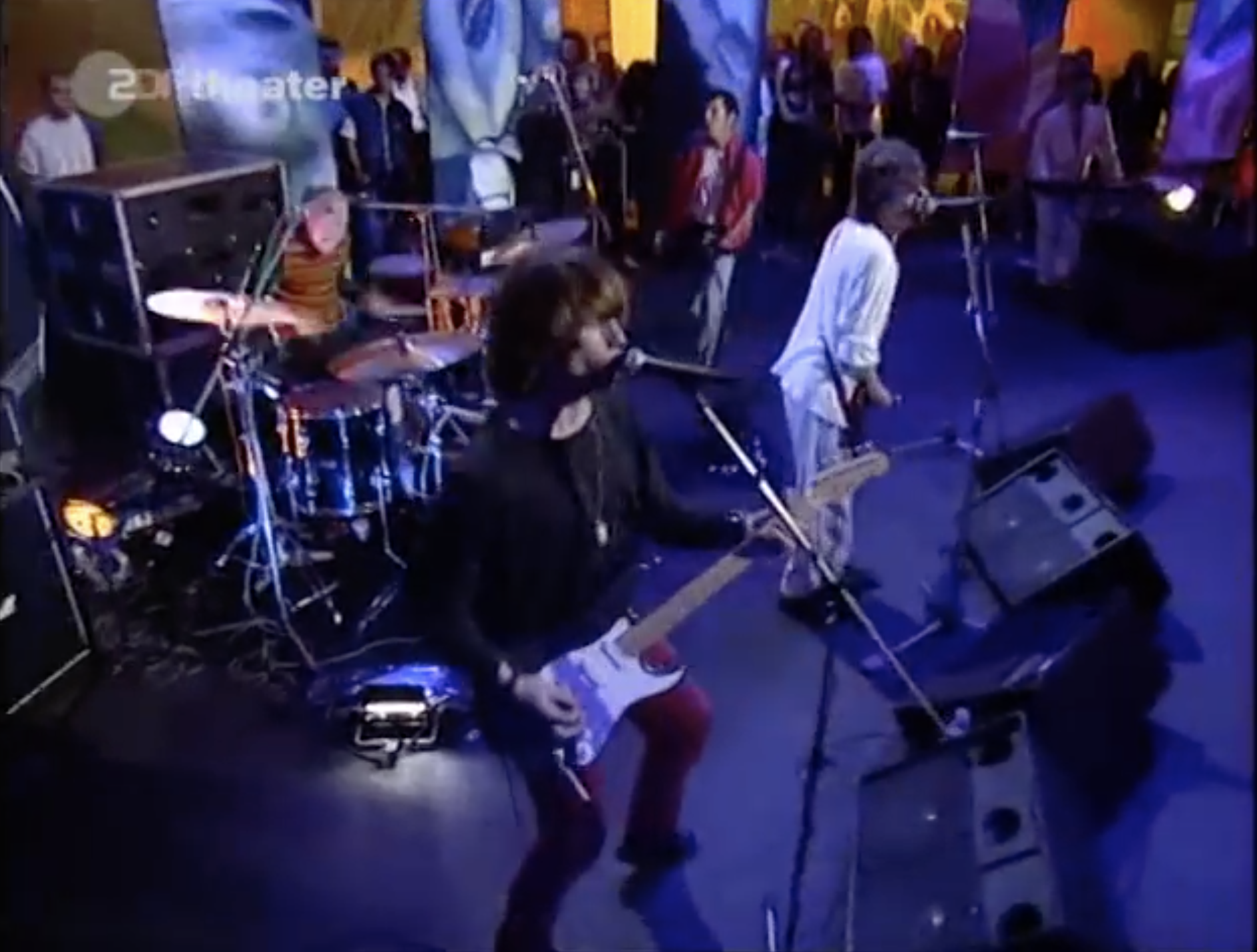 Paul Westerberg-World Class Fad, British TV 1993
"Today we're listening to Paul Westerberg's 'World Class Fad.'
"In the early 90's someone found a wall in downtown Portland and spray-painted 'Paul Westerberg is God' on it. We must've walked by it dozens of times while it was there (notably, it stayed up for a realllly long time).
"I don't know that I'd got that far, but I would say that when it comes to taking sincerity and cynicism and making it sound fantastic, Westerberg is definitely in rarefied air.
"Westerberg of course was in The Replacements, a band I've yet to find anyone say an unkind word about. This track was off of his 1993 solo record, 14 Songs.
"…What is certain is that this is a fantastic track, overflowing with energy. And maybe that's the genius of Westerberg; you're having such a good time dancing to the music that it doesn't much matter who it may/may not be about." – Kevin Alexander
Article: Paul Westerberg, World Class Fad
Album cut: World Class Fad
Video: Paul Westerberg-World Class Fad, British TV 1993
Image of the Week
A collection of vacuum cleaners shot by Callum O'Keefe, and captured in his project Antiques of the Future.
According to Gallup's CliftonStrengths Assessment, my number one strength is Input. For Debbie, Input is number two, meaning that we are both collectors. After 40 years of living together first time visitors often refer to our house as a museum.
I love this gallery of photos of collectors and collections. Both are so weird.
Article: What Are the Psychological Reasons Behind the Compulsion to Collect? Photographer Callum O'Keefe Explores
What's Love & Work?
Love & Work is the weekly newsletter by me, Mitch Anthony. I help people use their brand – their purpose, values, and stories – as a pedagogy and toolbox for transformation.